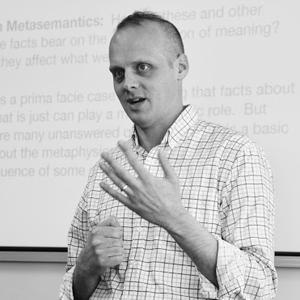 News from Arché
Research
Dr Ball's research interests include a wide range of issues in the philosophy of mind, philosophy of language, and related areas. He has written on foundational issues in semantics and the foundations of linguistic meaning and on the nature of concepts and concept possession, and has applied views in these areas to debates about the nature of consciousness, about epistemology, and elsewhere. His research also includes projects in developmental and comparative psychology.
Selected publications
Capuchin monkeys individuate objects based on spatio-temporal and property/kind information: evidence from looking and reaching measures
Kersken, V.
,
Zhang, D.
,
Gomez, J-C.
,
Seed, A. M.
&
Ball, D. N.
,
1 Aug 2020
,
In:

Animal Behavior and Cognition.
7
,
3
,
p. 343-364
22 p.
Research output: Contribution to journal › Article › peer-review
Metasemantic ethics
Ball, D.
,
4 Feb 2020
, (E-pub ahead of print)
In:

Ratio.
Early View
Research output: Contribution to journal › Article › peer-review