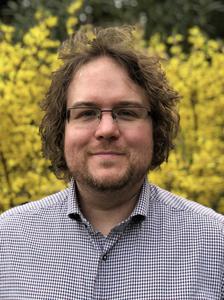 Dr Nicolas Wiater
Director of Impact
Phone

Email

Office

C32

Location

Craigard
Biography
I joined the School of Classics in 2011 as a Lecturer, after completing my M.A. in Classics (Greek, Latin and Byzantine Literature) and Ph.D. (Greek Language and Literature) at the University of Bonn in Germany, where I studied with Otto Zwierlein (Latin), Thomas A. Schmitz (Greek) and Erich Trapp (Byzantine Studies). During my studies I spent time at Frankfurt, Pisa (Università di Pisa and Scuola Normale Superiore) and Cambridge. From 2010-2011 I spent a year as a Feodor-Lynen Fellow of the Alexander von Humboldt Foundation at the University of Urbana-Champaign, Illinois.
Teaching
I teach across all four programmes of the School, with a particular focus on Greek Language and Literature, Latin Literature and Classical Studies. This is in line with my research which equally cuts across disciplinary boundaries. I am particularly proud of my Honours module on the History of Ancient Greek, from Homer to the New Testament, which explores a broad range of different kinds of texts written in ancient Greek (epic and lyric poetry, inscriptions, letters, religious texts, including the Septuagint and the New Testament, historiography, and others) and makes ancient Greek visible in all its rich diversity. The module was awarded a student-led Teaching Excellence Award in 2018. Other modules I particularly enjoy include my Honours modules on Violence in Early Greek Poetry and Greeks and Romans, to the Age of Augustus. I also enjoy teaching Catullus (and occasionally Horace) on the Latin Honours module on Latin Lyric Poetry as well as Sallust on the Lati Historical Writing. At subhonours I regularly teach on Menander's Dyscolus, Lysias, Herodotus, Greek Lyric Poetry and Homer in Greek and Livy and Sallust in Latin. On the CL programme I contribute lectures and tutorials on Horace and Augustan Rome and Early Greek Poetry.
Research areas
My research explores Greek literature and culture, especially Greek narratives of Roman history and Greek literary criticism, in the late Hellenistic and early Imperial period. I am particularly interested in the ways in which Greeks interacted and engaged with, and tried to make sense of, the rise of Rome. My work is therefore located at the intersection of Greek and Latin literature as well as history and archaeology.

My first book, The Ideology of Classicism. Language, History and Identity in Dionysius of Halicarnassus (de Gruyter 2011), studied the role of Greek literary criticism as an important element of Greek cultural identity and self-definition in Augustan Rome. This book was complemented by an edited volume (with Thomas A. Schmitz) that explore the role of Greek identity in the first century more broadly (The Struggle for Identity. Greek and Their Past in the First Century BCE, Steiner 2011). With Jason König I am currently completing work on a similar, but much broader volume that examines continuities and differences in Greek prose and poetry from the late Hellenistic to the Imperial Period. With Thomas A. Schmitz (Bonn University), and funded by one of the University's Global Doctoral Scholarships, I will be supervising a doctoral project on the representation of Rome and Athens in late Hellenistic and Imperial Greek Literature.

Since 2011 I have been working on a commented translation (alas, in German) of the Early Roman History of Dionysius of Halicarnassus of which two volumes have since appeared (Hiersemann 2014 and 2018) and the third volume is underway. For OUP I am writing a monograph on narrative and history in book three of Polybius' Histories, in which Polybius narrates the causes and beginnings of the Second Punic War. As in my other work, the question of how narrative and history intersect and how historians can profit from narratological, and narratologists from historical approaches, methods and questions is at the forefront of my research.

With Alice König I am involved in the collaborative research project Visualising War On and Off the Page, which has led to conferences, workshops and other events exploring different ways in which battles are represented in a broad range of different media along with the social, cultural and political significance of these representations. We are currently editing a volume on representations of war and battle across different ancient cultures and periods. Our work on this project regularly involves students at all levels, including Undergraduate Research Assistants, Ladilaw Scholars and, most recently, a doctoral student set to start next year on one of the University's Wold-Leading Doctoral Scholarships.
PhD supervision
Francesca Salibra
Sally Mubarak
Stefano Carlo Sala
Selected publications