Dr Alexia Petsalis-Diomidis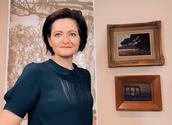 Lecturer in Classics
Equality & diversity officer, sub-honours adviser
Phone: 01334 462609
Room: C31
Research Interests
I work on the cultural history of spaces and objects, using both texts and archaeological remains as sources. My primary focus is the Hellenistic and Roman periods, particularly marginalised, non-elite voices in the areas of religion, travel and the body. I am interested in intimate, small scale encounters with objects. These can tell us about the 'texture' of ancient life, but they can also change our understanding of bigger cultural trends which are gathered largely from elite male-authored texts. In addition I work on Classical reception of material culture in Europe c.1760-1830, with an emphasis on ancient Greek ceramics and Ottoman Greece.
Current Research
I am currently working on two volumes of collected papers based on conferences I convened on the Reception of Greek Vases:
(With Edith Hall, King's College London) The classical vase transformed: Consumption, reproduction and class in C18th-C19th Britain (BICS 63-1), forthcoming 2020. The volume explores the reception of Classical Greek pots through the lens of social class and brings to prominence hitherto marginalized working-class and middle-class engagements with this area of classical material culture.
(With C. Meyer, Bard Graduate College, New York) Drawing the Greek vase: Classical reception between art and archaeology Visual Conversations in Art and Archaeology Series ed. J. Elsner (OUP). The volume investigates the way that two-dimensional images of Greek vases have shaped our understanding of these objects. Greek vases are used as a case study to show that graphic images, including drawings, photographs and digitised reproductions, play a determining role in the production of archaeological knowledge.
My longer term projects are:
Classical marvels – conference convened May 2019
Ancient Greek votives
The Reception of Greek vases in Ottoman Greece
Research Students
I am happy to supervise students working on any of the areas listed above under 'Research Interests'. Please email me to discuss possible projects.
Publications
Teaching
I teach mainly in the undergraduate programmes of Classical Studies and Greek in the following modules:
Sub-Honours Classical Studies:
CL1004 Myth and Community in ancient Greek Literature and Culture
CL2004 Culture and Thought in the Late Roman Republic
CL1005 Images of Augustan Rome
Sub-Honours Greek:
GK1005 Greek Language and Literature
GK1006 Greek Pastoral and Passion
GK2001/GK2003 The Landscape of Greek Prose
Honours Classical Studies:
CL4605 Classical Bodies
CL4463 Travels and Marvels in the Graeco-Roman World
Honours Greek:
GK4119 Texts and Objects in the Greek World
I contribute to the following MLitt modules in the areas of Classical material culture and Reception:
CL5001/5002 Themes and Methods in Classical Research
CL5022/5222 Greek Literary Culture
CL5021/5121 Latin Literary Culture
Academic Career
I studied Classics at Corpus Christi College, Oxford (MA 1995) and Art History (Byzantine and Classical) at the The Courtauld Institute of Art, University of London (MA 1996 and PhD 2001). I taught Roman Archaeology for a year at University College Dublin, and was then offered a permanent lectureship in Classics at the University of Nottingham, which I deferred to take up a Special Leverhulme Research Fellowship (2002-2005). Between 2005 and 2012 I took a career break bringing up my three children. During this time I worked part time, as a Lecturer in Classical Art and Archaeology at Corpus Christi College, Oxford (2005-2017) while also doing some teaching stints at the University of Warwick (2008-2009) and at Birkbeck College (2011). From 2012-2016 I was lecturer in Classical Greek Art at King's College London in addition to my position at Corpus Christi College. In 2017 I resumed full time work and joined the School of Classics at St Andrews.