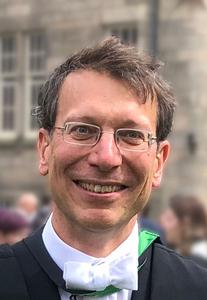 Prof Peter Wahl
Director of Research
Phone

Email

Office

207

Location

Physics & Astronomy
Research areas
My research is focused on mapping electronic excitations in correlated electron materials with high spatial and spectral resolution by spectroscopic imaging STM. Understanding the physics of correlated electron materials, among them high temperature superconductors, is one of the outstanding problems in current condensed matter physics.
The aim of our research is to improve our understanding of the physics of correlated electron materials by studying excitations close to the Fermi energy and get a picture of the electronic structure. To this end, we develop new instrumentation which is optimized for the retrieval of atomic-scale spectroscopic maps at low temperatures and in high magnetic fields.
Our research benefits from a dedicated ultra-low vibration facility at the School of Physics and Astronomy.
PhD supervision
Izidor Benedicic
Olivia Armitage
Daniel Halliday
Selected publications