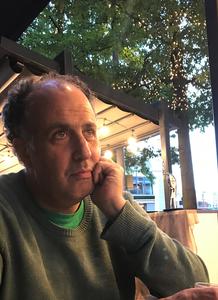 Prof Thomas Harrison
Director of Teaching
Phone

Email

Office

S9

Location

Swallowgate
Biography
I studied for both my undergraduate degree and doctorate at Wadham College, Oxford, completing my DPhil in 1995, under the supervision of David Lewis and then Robert Parker. My first teaching post was a temporary one in St Andrews (1995-7); from there, I went to a British Academy Postdoctoral Fellowship at UCL, back to St Andrews for a lectureship (2000-2004), and to Liverpool where i was Rathbone Professor of Ancient History & Classical Archaeology - before returning to St Andrews for a second time in 2015!
Beyond St Andrews, I edit a number of book series: Bloomsbury Companions in Greek and Roman Tragedy, Bloomsbury Archaeological Histories (with Duncan Garrow and Michele George), and Ancient Religions and Cognition (CUP, with Esther Eidinow). I am also on the editorial board of a number of journals and book series: Electrum (Jagiellonian University, Cracow), Worlds of the Ancient Near East and Mediterranean (Equinox), Esperidi (Genova University Press), Translated Texts from Antiquity (Liverpool University Press), and the Journal of Cognitive Historiography.
I have long been committed to the support of Classics and Ancient History in schools, as a past Chair of the Joint Association of Classical Teachers, a long-standing trustee and supporter of Classics for All, and currently as Chair of the Classical Association of Scotland.
Teaching
I contribute widely to a number of undergraduate and MLitt modules, including the first-year introductory module on 'The Greeks in a wider world' and the MLitt module 'Greek history and Material Culture'. I teach a range of Honours modules in rotation, including: ;Herodotus', 'Persia and the Greeks', 'Greeks and Others', and 'Eight Scenes in the Life of Alexander'.
I have seen through numerous doctoral students, and currently supervise projects on a range of topics in Greek historiography, Persian history, and classical reception. I am always happy to discuss ideas for possible research areas with potential applicants.
Research areas
I am a historian with broad interests in the archaic and classical Greek and Near Eastern worlds, but my research focusses especially on four themes: Greek historiography, not least Herodotus' Histories and the world they represent; Greek religious belief; the interface between the Greeks and 'barbarian' peoples (particularly the peoples of the Achaemenid Empire); and, finally, classical reception and the history of scholarship, especially in relation to Herodotus and to the ancient Near East.
Since the first COVID lockdown of 2020, i have coordinated (with Jan Haywood) the weekly meetings of the Herodotus Helpline, an international community of readers of Herodotus' Histories.
PhD supervision
Reza Zarghamee
Caitie Bugler
Maxwell Stocker
Edward Armstrong
Kenneth Arthur
Selected publications