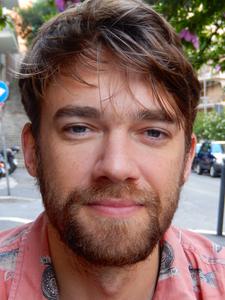 Dr Tom Geue
Senior Lecturer in Latin
Phone

Email

Office

S13

Location

Swallowgate
Biography
I've been lucky enough to learn and teach at some wonderful classical hotspots, and have been tattooed with the thoughts of many. I picked up a lot from Emily Matters at North Sydney Boys High School, and went further with Frances Muecke and Emma Gee for my undergraduate degree at the University of Sydney (2004-7). I waved off the sun to do an MPhil and PhD at King's College, Cambridge, on the watch of John Henderson and Chris Whitton (2008-13). I then went west to be a stipendiary lecturer at Trinity College, Oxford (2013-14), and almost kissed the Severn Bore with a stint as a teaching fellow in Latin at the University of Bristol (2014-15). I'm overjoyed to stop traversing the island with a British Academy Postdoctoral Fellowship at St Andrews (2015-18, with patches in Harvard and Sydney), followed by a lectureship in Latin (2018-into the sunset). 
Teaching
I teach across the board in Latin, with some contributions to Classical Studies modules too. At Sub-Honours, I tend to focus on the first year advanced students (lecture blocks on Popular Latin, Octavia, and Seneca's Apocolocyntosis), with some language and unseen translation support for second years. At Honours, I have two modules on the go, one on anonymous Roman literature, the other on Roman literary criticism; I also contribute to the team-taught module on Roman Biography. For Master's level, I give the odd class on literary theory, and on structuring debates in Latin literary studies.
Most of my papers have started life as ideas tried out and unwisely not left in the classroom; I hope my students always see the two-way traffic between teaching and research, and how important they are (if often unfairly invisible) on the road from chat to print. I welcome conversations with students of all levels, at all times, so please get in touch if you want to bat some ideas around! But I'll need to try some out on you too.
Research areas
Research Interests
Imperial literature from c. 40 BCE to c. 200 CE, mainly Latin, Greek on a good day
Roman satire
Anonymous texts, literary and less literary
Marxist criticism
Classical reception, esp. in high modernism, and contemporary women's writing
History of classical scholarship and its relationship with the political left
Historicism, formalism, and the various conflicts within each
Intertextuality and its limits
Autobiography and self-fashioning
History of literary criticism in 20th century, esp. the fortunes of 'close reading'
Working with uncertainty
Current and Future Research
Anonymities
My research grows from the problems and possibilities of historicism, in all its many stripes. On Mondays, Wednesdays and Fridays I deal with the question of texts which lack secure authorship and context, and so have repeatedly resisted the historicist methods rolled out in mainstream classical scholarship. Rather than fix these anonymous texts in time, place, or person, I have tried to come up with new ways to read their anonymity as crucial to their 'being', and fundamental to their strange effects of heightened universality; to take their anonymity as an opportunity, not an obstacle, if you will. I tested this out in a monomaniacal close reading of the satires of 'Juvenal', which became my first book Juvenal and the Poetics of Anonymity (Cambridge, 2017). I've extended the approach to other texts, while also upping the ferocity of the claim, in my most recent book project Author Unknown: Anonymity in Ancient Rome (Harvard UP, 2019). This book ranges across anonymities, from the suppression of names within texts such as Ovid's Ibis, to poems seeking to carve out space in multiple temporalities (e.g. Calpurnius Siculus, the Laus Pisonis), to texts whose anonymity gives them an authority booster to their political power (e.g. Octavia, Apocolocyntosis). The bigger purpose is to practise a kind of literary scholarship that is alive to both historical and reception contexts, them and us, simultaneously.
Marxish criticism and Latin literature
On Tuesdays and Thursdays, I try to help Latin literary studies get to a place where the 'political' is understood as something beyond intra-elite powerplay, and get things moving more in the tradition of Marxish criticism or 'cultural materialism'. I recently published a close reading of Virgil Georgics 4 (JRS 2018), which reads the book (and poem) as a means of naturalising the logics of slavery and imperialism that marked its making: i.e., forcing others to do the hard work for you, and pretending that's what they want. Further down this track, I'm currently at work on another long article which reads the explosion of brevitas in 'Tiberian' literature (broadly conceived, incl. Phaedrus, Velleius Paterculus, Ovid's Fasti and Valerius Maximus) as something detonated by the self-curtailing and time-conscious experience of slavery. 
Collaborations
I invent days that don't exist to work on collaborative projects with brilliant colleagues, which stand at various oblique angles to my research. I'm working on an edited collection with Elena Giusti (Warwick), which features a crack team of scholars, emerging and established, to track the themes and devices of 'absence' in Latin literature and its reception (Unspoken Rome: Absence in Latin Literature and Its Reception, forthcoming with CUP 2021). I'm also working with Claire Jackson (Ghent) and Fran Middleton (Cambridge) on another edited collection that will help us rethink the literary dynamics of the Roman Empire beyond the standard holy trinity of author, reader, and text (The Medium of Empire: Unstable Text in Rome's Imperial Literature).
Futures: Sebastiano Timpanaro
At night, I dream of the future: a project of intellectual history called Major Corrections: the Materialist Philology of Sebastiano Timpanaro, for which I have been awarded a Leverhulme Research Fellowship for 2021-22. Sebastiano Timpanaro (1923-2000) was one of the great post-WWII European intellectuals, making a host of disciplinary-shifting and -transcending contributions in the fields of classical philology, Marxist theory, Freudian psychoanalysis, and Italian literature. Timpanaro is now almost forgotten in the anglophone world, a side-effect of disciplinary fragmentation. This will be the first major study to bring Timpanaro the philologist together with Timpanaro the political theorist, to show more broadly how each discipline can illuminate and electrify the other.
PhD supervision
Selected publications