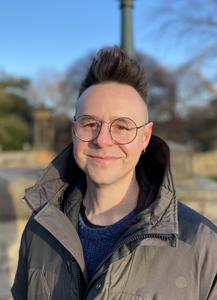 Dr Henry Stead
Senior Lecturer
Phone

Email

Office

S12

Location

Swallowgate
Research areas
I am a Classical Reception scholar and Latinist with a special interest in the reception of Greek and Roman culture among the British working classes from the late 18th to the 20th century. I also work on defiant and leftist appropriations of classical culture.
My current research project is called Brave New Classics. It began life in May 2016 as a Leverhulme Early Career Fellowship hosted by Open University. Until May 2019 it investigated the unlikely but electric convergence of classics and British communism to 1956. The project has since extended its scope and now explores the relationship between world communism and the classics, and aims for the BNC website to become a key platform for international and collaborative research into the subject. The work dovetails with my previous study on working-class engagements with Greek and Roman culture in Britain and Ireland to 1939. 
CLASSICS AND CLASS IN BRITAIN (1789-1939)
I was the Research Associate on the major AHRC-funded research project into working-class receptions of ancient Greek and Roman culture, led by Prof. Edith Hall and hosted by King's College London (Jan 2013-Dec 2015). Our website can be visited here, and our jointly edited volume, Greek and Roman Classics and the British Struggle for Social Reform (Bloomsbury, 2015), is currently available in all good legal deposit libraries. Additionally, we have a joint authored book (Routledge, 2020) entitled A People's History of Classics. 
Before working on Classics and Class I was completing my first classical reception project, which grew from my doctoral thesis.
At the Open University and University of Oxford, 2008-11 I held the Michael Comber Studentship for Classical Reception. I explored the reception of Catullus in Romantic-era Britain. The book is now published by Oxford University Press as A Cockney Catullus (2015).
Selected publications