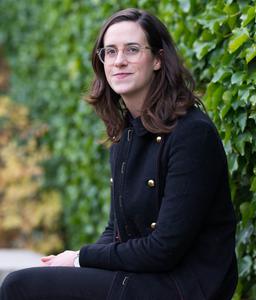 Dr Stephanie O'Rourke
Senior Lecturer in Art History
Biography
BA Harvard University (2008), PhD Columbia University (2016)
Research areas
Stephanie O'Rourke specializes in eighteenth- and nineteenth-century European visual culture, particularly in relation to scientific knowledge, spectatorship, and media technologies. Her publications on this can be found in Representations, Art History, Eighteenth-Century Studies, Journal18 and elsewhere.
Her first book (Art, Science and the Body in Early Romanticism, Cambridge University Press) examines the relationship between art and the production of scientific knowledge at the dawn of the nineteenth century. It reveals some of the ways that artworks were critical actors in a larger epistemological transformation taking place at the twilight of European Enlightenment. A forthcoming article, "Art after Self Evidence," reflects specifically on the status of race and gender in this shift.
Her second book project, awarded research fellowships from the Leverhulme Trust and the Royal Society of Edinburgh, examines how late eighteenth- and early nineteenth-century European artists engaged with changing ideas about the history of the natural world -- and how these ideas shaped, in turn, their understanding of human history. Focusing on a handful of artists from Britain, France, and Germany, it explores how landscape painting was embedded in two, interconnected discourses: scientific debates about Earth's 'deep history', on the one hand, and, on the other hand, the formation of 'history' as a humanistic, academic discipline.
She is currently a Saltire Fellow at the Royal Society of Edinburgh (2022) and previously held a Leverhulme Research Fellowship (2020). Her research has been supported by grants and fellowships from the Social Science Research Council, the Yale Center for British Art, the Royal Academy, the Association for Art History, the Pierre and Tana Matisse Foundation, and elsewhere. From 2013-14 she was a Mellon-funded research fellow at The Museum of Modern Art, where she worked primarily on the exhibition 'Degas: A Strange New Beauty' (2016).
PhD supervision
Sofya Dmitrieva
Lauren Robbins
Ingrid Steiner
Selected publications