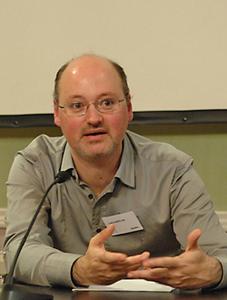 Dr Luke Gartlan
Deputy Head of School
Research areas
My research and teaching concerns modern visual practices in the global nineteenth century, particularly with regard to histories and theories of photography; Japanese modern art, its institutions and intermedial practices; Orientalism and cross-cultural art; and Art of the Habsburg Empire. These interests informed my book A Career of Japan: Baron Raimund von Stillfried and Early Yokohama Photography (Brill, 2016), which was awarded the Josef Kreiner Prize for International Japanese Studies. I have co-edited two volumes: with Roberta Wue, Portraiture and Early Studio Photography in China and Japan (Routledge, 2017); and with Ali Behdad, Photography's Orientalism: New Essays on Colonial Representation (Getty, 2013). I served for six years as editor-in-chief of the international quarterly journal History of Photography, for which I also guest edited a special issue on photography in nineteenth-century Japan.
I am currently pursuing two new research projects. The first examines the visual exchanges and practices between Australia and Japan in the nineteenth century, and seeks to question the imagined disciplinary geographies that have neglected north-south cultural encounters and flows in the Pacific region. The second project concerns early photography in St Andrews within the context of local engagements in empire and global exchange. This study investigates the associations between concepts of British provinciality and empire through close analysis of selected family photograph albums and archives.
I have guided two PhDs to completion and currently supervise four others pursuing research on topics concerned with photography in distinct cultural contexts including Victorian Britain, the Middle East, French Indochina, and China. Along with Dr Natalie Adamson, I also coordinate the MLitt History of Photography program. I warmly invite enquiries from potential students who wish to pursue research topics related to my own interests.
PhD supervision
Mi Zhou
Meghan Dolan
Carine Chelhot Lemyre
Selected publications