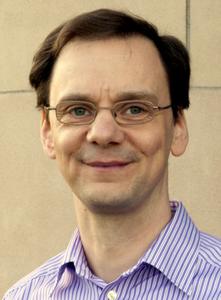 Dr Peter Woitke
Honorary Reader
Teaching
I am currently teaching the AS3013 module "Computational Astrophysics", where students are introduced to the FORTRAN 90 language, and then work on four continuously assessed exercises, each taking them between 2 and 4 weeks. The topics covered range from simple black-body radiation, over the initial mass function of star formation and N-body simulations, to Bayesian analysis of planet transit data.  The students lean basic numerical methods for root-finding, numerical integration, and for solving systems of ordinary differential equations. The students also learn how to write reports in scientific language, and how to make plots.
Research areas
I am working in the field of star and planet formation with emphasis on modelling protoplanetary discs, the birth-places of planets. The modelling includes 2D dust continuum radiative transfer, gas phase, UV-photo and Xray-chemistry, ice formation, heating & cooling balance, and the consistent computation of the vertical hydrostatic structure of the disc.  Based on these models, various line and continuum observations can be simulated, and I have experience with the interpretation of observational data from e.g. HERSCHEL and ALMA, to mention a few.
I am the PI of a 2-million-Euro FP7 SPACE collaborative project DIANA (DIsc ANAlysis) managing a team of 14 European scientists in 5 European countries . Our aims are to collect multi-wavelength observational datasets for protoplanetary discs, from X-ray to cm, and to analyse and interpret these data on the basis of the disc models, to learn more about the physical and chemical structure of the places where planets form.
Selected publications