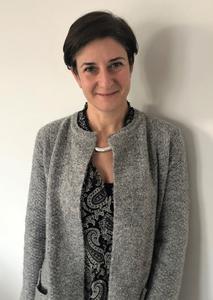 Dr Claudia Rossignoli
Lecturer
Phone

Email

Office

Room 207

Location

Buchanan

Office hours

Tuesday 11-1
Teaching
I teach undergraduate and postgraduate courses on Dante, Medieval Italian Literature and its reception, and the Italian Renaissance with particular emphasis on literary theory, issues of gender and transcultural exchange. I also teach courses on the history of the Italian Language, the history and literature of the Risorgimento, and on nineteenth-century authors, such as Foscolo and Leopardi. I supervise dissertations on a broad range of topics within Italian Studies, Comparative Literature and Medieval Studies, and I am significantly involved in the teaching of Italian language, throughout our degree programme.
Research areas
Since joining the University of St Andrews, I have been expanding my expertise in the study of early modern culture. Alongside projects on Renaissance commentaries, on poetic and interpretative theories, I have been working on the dissemination of Reformation movements and ideas in sixteenth-century Italy, bringing to a field normally dominated by historical analysis critical questions regarding language, theology, transnational cultures and materiality. More recently, my enthusiasm for Dante and all things medieval made me turn my attention to contemporary forms of medievalism, examining the reception and transmediation of literary texts in commercial digital enterprises.
I have been a visiting Fellow of the HAB (Herzog August Bibliothek) in Wolfenbüttel, of St John?s College (University of Oxford), and a Senior Research Fellow of the PIASt ? PAN (Polish Institute of Advanced Studies at the Polish Academy of Sciences) in Warsaw (2019-20). I serve on the editorial board of Dante Studies and, since January 2020, as Honorary Secretary of the Society for Italian Studies.
Selected publications