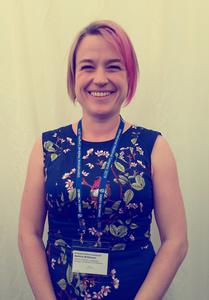 Prof Bettina M Bildhauer
Director of Research
Phone

Email

Office

Room 208

Location

Buchanan

Office hours

Tuesday 12-2
Research areas
My research focuses on medieval German literature in its global and cross-temporal context. My approach combines recent theoretical ideas with close analysis of texts, films and images; archival work; and interdisciplinary methods and topics from the environmental, medical and digital humanities. Underlying much of my research is an interest in the limits of the human, both the physical limits of individual human beings and of what counts as human, and how this intersects with the world around us. My current research projects deal with menstruation, materiality and the Global Middle Ages. For my overall contributions to research, I was awarded a Friedrich Wilhelm Bessel Research Award in 2020 and a Philip Leverhulme Prize in 2009. You can listen to me speak about the medieval German epic Nibelungenlied on BBC Radio 4's In Our Time programme here.
Global Middle Ages: The Seven Sages of Rome/ Book of Sindibad/ Dolopathos is the most famous premodern text of which nobody has ever heard, and I aim to change that in my current AHRC-DFG-funded project, The Seven Sages of Rome: editing and reappraising a forgotten classic from global and gendered perspectives (2023–2026). This story cycle, told in at least 30 languages from the Middle East to Iceland over more than five centuries, centres on a sexual assault between a mute prince and his young stepmother, and the difficult processes of reaching a legal and ethical verdict on the non-consensual encounter. Chaucer, Boccaccio, Dante, Shakespeare and The Arabian Nights have all borrowed stories from this cycle. We investigate the narrative from a global perspective as a multilingual tradition, and from a gendered perspective as showing the fragility of a binary conception of gender.
Menstruation: Menstruation provides unique insights into gendered embodiment and the persistence of stigma over centuries. I was the lead investigator for the Royal Society of Edinburgh's research network Ending Period Poverty (2020–22), examining the historical roots of Scotland's current pioneering role in providing free period products. Our research is published open access with the Open Library of Humanities. I have also led a St Andrews Restarting Research Project (2021) on sustainable menstrual products. My monograph Medieval Blood (2006, paperback 2009) is concerned with blood as a crucial part of medieval, legal, religious and cultural conceptualizations of the body, gender and subjectivity, as a marker of where bodies and humans end. It is particularly interested in the anxieties about gender and personal identity expressed through the medieval obsession with menstruation.
Material things: My monograph Medieval Things (2020) shows how medieval creatives imagined materiality and alternatives to the subject/object binary. It argues that the Anthropocene has a lot to learn from pre-Enlightenment conceptions of human subjects and material objects, putting materiality back into seemingly immaterial digital networks, or refocusing our attention on non-human rather than human agent of change. A short video about this project is here. This work was supported by a Leverhulme Research Fellowship.
Medievalism: The premodern period – the Middle Ages – is crucial for defining what it is to be modern. I have widely investigated medievalism, that is, the influence of the medieval on our self-perceptions, and the persistence of medieval culture, art and thought, for example, in The Middle Ages in the Modern World (co-edited with Chris Jones, 2017), Medieval Film (co-edited with Anke Bernau, 2009) and Filming the Middle Ages (2011). This work was supported by a Humboldt Research Fellowship for Experienced Researchers.
Monstrosity: My co-edited collection The Monstrous Middle Ages (with Robert Mills, 2006/2017) asks how humans are distinguished from other entities, especially monsters and things. The chapter I contribute (reprinted 2019) deals with anti-Semitic discourse on monsters.
My Wikipedia page: https://en.wikipedia.org/wiki/Bettina_Bildhauer
I have supervised PhD students in medieval, German and film studies and welcome applications from prospective PhD students in related fields.
PhD supervision
Selected publications