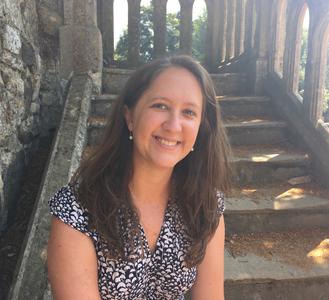 Dr Victoria Turner
Lecturer
Phone

Email

Office

Room 406B

Location

Buchanan

Office hours

Tuesday 3-4, Wednesday 10-11
Teaching
As well as sub-Honours language, literature, and culture seminars, I teach two Honours modules in French:
FR4116: Medieval Marvels: the Exotic, the East and the Other in Medieval French Literature
FR4117: Politics, Propaganda and Mythmaking in Medieval France
I also teach at Sub-Honours and Honours levels for Comparative Literature modules.
At postgraduate level, I teach students both through St Andrews Institute of Mediaeval Studies and through the School of Modern Languages, particularly for: MS5024 (Mediaeval Language) and MS5101/2 (Approaches to Mediaeval Studies 1/2)
I would be happy to hear from any students interested in pursuing a PhD in topics relating to medieval French or Occitan literature, culture or history, whether via Modern Languages or Mediaeval Studies.
Research areas
I joined St Andrews in 2014 after Teaching Fellowships at the University of Leeds (2013-14) and University of Warwick (2012-13). My PhD (University of Warwick, 2013) focused on the figure of the Saracen in medieval French and Occitan literature.
My research focuses on medieval French and Occitan literature and I am particularly interested in concepts of difference, identity, and race between the twelfth-fourteenth centuries. My first monograph Theorizing Medieval Race: Saracen Representations in Old French Literature was published with Legenda in 2019. It explores how, in the medieval Christian imagination, racial identity is not only paradoxical but even performative and draws on modern critical theory in order to counter suggestions that such identities were necessarily adversarial, consistent or absolute for medieval writers.
Intercultural contact has been central to my research to date, and more recently this has extended into two main areas:
late medieval travel writing and travel networks (contact with the Canary Islands, travels throughout eastern Europe and the Middle East)
Medieval French crusading narratives
More broadly, my other research interests include: gender and sexuality, text-image relations, the human/non-human, marvels and exoticism, mythmaking, the medieval Mediterranean, literary theory
PhD supervision
Hailey Ogle
Sarah Gregory
Selected publications