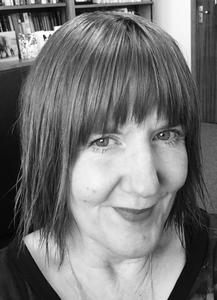 Prof Nicki Hitchcott
Head of the School of Modern Languages
Phone

Email

Office

Room 101

Location

Buchanan

Office hours

By appointment
Biography
I joined St Andrews in October 2016, having held a personal chair at the University of Nottingham. I attended a comprehensive school in Exeter before studying for my BA and PhD at UCL, and was the first person in my family to go to university.
Teaching
Honours modules: FR4161 Antillean Identities; FR4183 African Francophone Fiction; CO3020 Literature and Cultural Memory; CO4003 Issues in Cultural Studies; CO3021 Crossing the Mediterranean; CO4032 Bad Books; CO4031 Experiences of Exile; CO4030 Short Story.
Subhonours modules: FR2204 French Civilisation; FR2206 French Literature from 19th to 21st Centuries; CO1002 Staging the Political.
Postgraduate: ML5002/21 Literary and Cultural Theory; MLitt Postcolonial and World Literatures (School of English); MSc International Development Practice (Graduate School).
Research areas
I am a specialist in postcolonial literatures in French and English, particularly fiction from sub-Saharan Africa. Funded by the AHRC, the British Academy and the Leverhulme Trust, my research has focused on West African women's writing, migrant fiction, and fictional responses to the 1994 Genocide against the Tutsi in Rwanda. I am currently working on two new projects: the Rwandan colonial Metis (with Dr Alice Urusaro Karekezi, University of Rwanda) and ecotexts in the postcolonial francosphere (with Dr Kenneth Nsah, Université de Lille).
From 2015 to 2018, I led the AHRC-funded project, Rwandan Stories of Change in partnership with NGO the Aegis Trust and the Genocide Archive of Rwanda. In 2018, I was a finalist for the inaugural Wellcome Trust/AHRC Health Humanities Medal in the Category of Best International Research.
I have supervised 10 doctoral degrees to successful completion on various aspects of postcolonial francophone studies, including African philosophy and women's documentary cinema, as well as African and Caribbean literature in French. Of my former doctoral students, 6 now have permanent academic jobs (at Lancaster, Melbourne, Newcastle, Trinity College Dublin, UCL and University College Cork) and one is a picture researcher in Paris. I warmly welcome enquiries from potential PhD students.
PhD supervision
Oladele Madamidola
Catherine Mackenzie
Clara Defachel
Selected publications