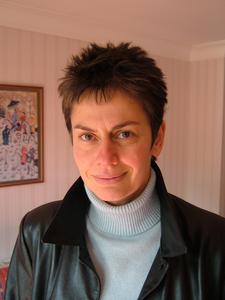 Prof Margaret-Anne Hutton
Chair of French and Comparative Literature
Phone

Email

Office

Room 210

Location

Buchanan

Office hours

Thursday 9-10, 11-12
Teaching
Having taught extensively and diversely in the field of French literature(s), Prof Hutton now teaches on a broad range of Comparative Literature modules. These include: 20th/21st Century Political Drama; Good and Evil; Literature and the Bible; The Short Story; core modules on theories and practices of Comparative Literature. The most recent additions to her teaching include China Miéville and fanfiction (both as part of the Short Story module), translations of the Odyssey, and new Masters level modules emphasising practice and new readings in Comparative Literature.
Research areas
Professor Hutton has published on a wide range of contemporary French fiction and on WWII narratives (both testimonial texts and works of crime fiction). Her current research interests include: Contemporary?especially post-2000, but there are many definition of 'contemporary'?literatures; Theories and practices of '(the) contemporary'; (Contemporary) comparative projects; Practices and theories of interdisciplinarity; Metaphors used in academic disciplines.
She is a member of the Academia Europaea.
Founder and director of the Modern Languages Writers in Residence programme:
https://modlangswritersinresidence.wp.st-andrews.ac.uk/
P.I. of the Leverhulme International Network for Contemporary Studies (2015-19):
https://arts.st-andrews.ac.uk/lincs/
Selected publications