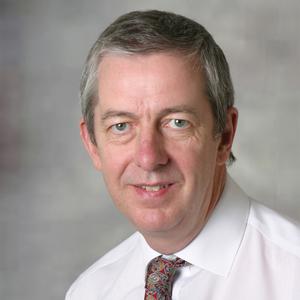 Prof Stephen Gillespie
Professor
Research areas
Stephen Gillespie has worked in Kenya researching the relationship between malaria and lower respiratory tract infection and the prevalence of parasitic infection in children in Kilifi, Kenya. He has investigated a cholera epidemic and vaccine failures in Guerrero, Mexico. He has been working in collaboration with colleagues at Kilimanjaro Christian Medical Centre since 1988 where he has, variously, studied respiratory and parasite diagnostics and novel antimalarials, anti-helminthics and anti tuberculosis agents. His main research activity is in the area of tuberculosis drug development.
For the last twenty five years Stephen Gillespie has been involved in various aspects of  tuberculosis diagnosis and drug development. This has included the evaluation of new candidate antituberculosis agents in vitro. This work has expanded into studies of the molecular mechanisms of resistance and the development of model systems to measure the fitness deficits found in resistant strains. He has been involved in the development of fluoroquinolones for tuberculosis having performed early bacterial activity studies and clinical trials of ciprofloxacin. More recently he has led the group working on the clinical development of moxifloxacin in collaboration with the Global Alliance for TB Drug Development as Chief Investigator of the REMox TB study. He later went on to be the coordinating investigator for the TB Alliance STAND trial (Shortening Treatment by Advancing New Drugs) and SimpliciTB trial. He is also one of the Chief Investigators of the PanACEA consortium that links European and African research groups in enhancing anti-tuberculosis therapy.  
He has an extensive record of developing novel microbiological diagnostics.  Most recently, he has developed SLIC (Scattered Light Integrating Collector),  which performs phenotypic antibiotic susceptibility testing in less than 30 minutes. This innovation won a Longitude Prize Discovery Award and was the Scottish Life Science Alliance Innovation of the Year 2017. In addition he has developed the Molecular Bacterial Load Assay, an innovative way of detecting, quantifiying and determining the viability of bacteria in a single test that allows both diagnosis and the monitoring of treatment response. Both of these innovations are being developed for clinical implementation.  
He has published a number of textbooks in the area of clinicical microbiology and infectious diseases.  These include Medical Microbiology and Infection at a Glance now going into its 5th Edition and translated into seven languages, Infection Microbiology and Management now going into its fourth edition also translated into three languages and Medical Microbiolloogy Illustrated. He has edited Principles and Practice of Clinical Parasitology, Principles and Practice of Clinical Bacteriology (two editions) amd Antibiotic Resistance Protocols (Three editions) Management of Drug Resistant Infections and Medical Parasitology. 
PhD supervision
Emmanuel Musisi
Stuart Reid
Hannah Lawther
Muge Cevik
Marianna Leite De Avellar
Selected publications