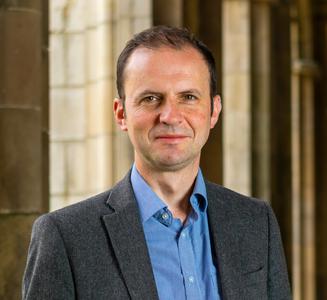 Prof Stephen Gethins
Professor of Practice in International Relations
Biography
Before taking up his post at the University of St Andrews Stephen served as the Member of Parliament for North East Fife. During his time in Parliament Stephen was twice selected to sit on the Foreign Affairs Select Committee. He was also the SNP spokesperson on Europe and International Affairs. He worked on issues such as the UK's response to the war in Syria, relations with Russia, the Syrian refugee crisis and the conflict in Libya among others. He was also closely involved in cross party efforts to deal with Brexit and was one of the few UK parliamentarians to have worked in the EU institutions.
Stephen has made regular appearances in UK and international broadcast media as well as writing for print media. He has also written about Scotland's Foreign Policy footprint and raised the issue in the House of Commons. Before entering Parliament Stephen worked in democratisation and peace-building in the western Balkans and South Caucasus. He was also a Special Adviser to Scotland's First Minister on EU and International Affairs as well as Energy and Climate Change.
Research areas
Stephen was a member of the House of Commons Foreign Affairs Committee over two parliamentary terms from 2015 to 2019. The Committee published reports on military operations in Syria, China, Russia, Libya, South America and the Rohingya crisis, amongst others. He also led and participated in committee delegations to a number of countries, including Iran, Colombia, Saudi Arabia and Russia.
During his time in Parliament Stephen was an Office Bearer on the All Party Groups for Refugees, Climate Change, Georgia and Bosnia among others. He has made visits to Refugee Camps along the Syrian border as well as areas affected by conflict such as those in Georgia and Ukraine. He also co-authored cross party legislation around Brexit in October and November 2019 along with colleagues from other political parties such as Dominic Grieve, Keir Starmer, Phillip Hammond and Jo Swinson.
Stephen Gethins is on the Board of Trustees of the John Smith Trust and a Special Adviser to Beyond Borders Scotland. He is also a member of the Judging panel for the Civility in Politics Awards. Stephen was a Special Adviser to Scotland's First Minister from 2009 to 2012 focusing on issues such as International and EU affairs, Energy and Climate Change among other issues.
Selected publications