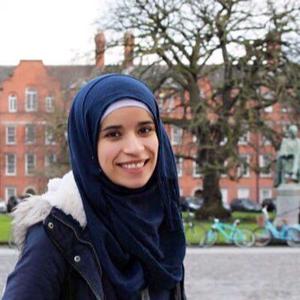 Dr Malaka Shwaikh
Associate Lecturer in Peace and Conflict Studies
Biography
Malaka joined the School of International Relations in January 2020. She was awarded her PhD in Middle East Politics, with no corrections, from the University of Exeter in 2019.
Malaka has previously taught at the University of Leeds and the University of Exeter. She has gained her Master's from the University of Sheffield in Global Politics and Law (2014) and has a diploma in Peace Studies and Counter Extremism from Adyan Institute in Lebanon (2016). She was recently awarded a fellowship at the American Political Science Association (APSA) and has multilingual skills in Arabic, Persian and Hebrew.
Geographically, her expertise is strongest in the Levant. She has also researched oral history in Palestine and refugeeism, peacebuilding, and displacement in the Arab region. Her research also examines the dynamics of prison hunger strikes, offers a typology of their forms and motives, and weighs the factors that affect their success or effectiveness. It draws on hunger strikes in world contexts, including England (the suffragette movement), Northern Ireland, and Turkey. It develops and revises theories of resistance, feminist theories of embodiment and subjection while also contributing a gender studies perspective often missing from the literature on resistance.
She has conducted multidisciplinary research in the Levant (especially Palestine, Jordan, and Lebanon), North Africa (especially Tunisia, Algeria, and Morocco), the Gulf region (especially Qatar), Turkey, South Africa, Britain, and Northern Ireland.
Qualifications
BA in English, Palestine (Islamic University of Gaza)
Diploma in Literature, Palestine (Islamic University of Gaza)
MA in Global Politics and Law, UK (Sheffield University)
Diploma in Peace Studies and Counter Extremism, Lebanon (Adyan Institute)
PhD in Middle East Politics, UK (Exeter University)
I have supervised research projects on:
"The unseen of the French colonial encounter in Tunisia";
"The 2003 Invasion of Iraq and its implications for Britain and Iraq";
"Portrayal of Afghan women in literature as victims of oppression";
"Palestinian women and the fight for the homeland";
"Racism in the Arab World: 'blackface" use in comedy".
Professional Membership
American Political Science Association
The British Society for Middle Eastern Studies (BRISMES) [also BRISMES Council member]
Seminars & Conferences (Selected)
02/07/2021 – British Society for Middle Eastern Studies (BRISMES), Virtual: Theorizing Hunger Strikes: Neither violent nor non-violent but pragmatic, active resistance.
13/06/2019 – the American University of Beirut: Lebanon: Intergenerational and Transgenerational Synergies in Palestinian Oral History.
02/04/2019 – the Afro-Middle East Centre, Johannesburg: South Africa: The Importance of Language in the War-Zone.
06/2018 - Festival of Voice conference, Cardiff: England: The Patriarchy of Occupation.
02/05/2018 - Queen's University Belfast Negotiating Detention conference, Belfast: Northern Ireland: Imprisonment and Hunger Striking in North Ireland, Palestine/Israel, & Guantanamo.
24/03/2018 – Doctoral Students Conference, Doha: Qatar: The Rhythm of Resistance: documentary and drama films as cultural memory and dissent.
18/10/2017 – Annual Afro-Middle East Centre Conference, Johannesburg: South Africa: Inspiring a Palestinian State or Ending Occupation First?
25/02/2017– Basma Youth Conference, Istanbul: Turkey: Youth Understandings of Politics and Society.
02/2017 tour – Ireland (Maynooth University, University College Dublin, University of Dublin, & Queen's University Belfast). Political Activism and International Relations in the War-Zone.
21/01/16 – University of Goldsmiths, London: England: Women in Resistance: Voices from Kashmir, Iraq, and Palestine.
28/11/15 – Université de M'hamed Bougara, Boumerdes: Algeria: Settler-Colonialism in Global Contexts.
20/02/15 - University of Essex: England: Social Movement Theory in Nonviolent Resistance.
30/12/14 - National School, Amman: Jordan: Two talks on leadership and politics.
31/10/14 - Sheffield University Students' Union, England: Global Politics and Governance: A Comparative Perspective.
02/04/14 - The University of Toronto: Canada: Political Representation & Democracy.
Teaching
PhD supervision
Shrishti Rana
Abdulla Al-Kalisy
Anezka Ferreira
Selected publications