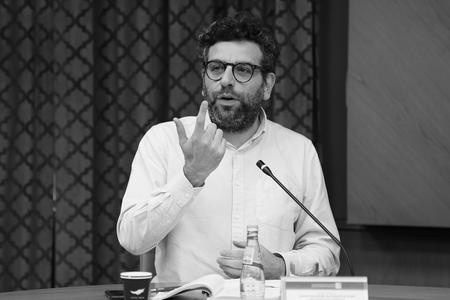 Dr Adham Saouli
Senior Lecturer
Director of Teaching
Biography
Adham Saouli is Senior Lecturer in International Relations and Middle East Politics and Director of Teaching in the School of International Relations. He received his PhD from the University of St Andrews in 2009. Saouli has held a Post-Doctoral Research Fellowship at the University College Dublin (2008 to 2009) and a Lecturship in Politics and International Relations at the University of Edinburgh (2009 to 2014). He joined the University of St Andrews in 2014. In 2018-2020 Saouli was visiting Associate Professor at the Doha Insitute for Graduate Studies. He is the editor of Disruptions, a book series by Edinburgh University Press.
Teaching
Foreign Policy Analysis and International Security (IR1006) - contributor
Politics and State Formation in the Middle East (IR3301)
Political Order and Violence (IR4601) - Senior Honours
Political Order and Violence in the Middle East (IR5601) - postgraduate course
Research Methods in International Relations (IR5601) - contributor, PhD course
Research areas
My research straddles the fields of International Relations and Comparative Politics, with a focus on the Middle East. I am interested in the genesis and development of political actors, be they states, social movements, or individuals. I am fascinated by the political behaviour of actors within constraining social contexts, by the dilemmas they face as they struggle to realise their ideals, and the intended and sometimes tragic consequences of their behaviour.
Drawing on the intellectual tradition of Historical Sociology, my research forms a dialogue between theory and empirical analysis, which is usually based on fieldwork I carry in the Arab world and/or Arabic sources. I have published on state formation, social movements, political ideas, and the politics and international relations of the Middle East. I examined several cases, including Lebanon, Egypt, Saudi Arabia, Iraq, Syria, Hezbollah, and Hamas.
My first book, The Arab State: Dilemmas of Late Formation (2012), examines the conditions that keep states intact in the region.
"Saouli is tackling questions that have perplexed political scientists since the advent of the discipline and utilizing Middle Eastern cases to illuminate these conceptual puzzles?The book has many merits. It bridges the divide between comparative politics and international relations to produce research that is broadly relevant to a number of scholarly audiences? its main contribution is to show how "state formation is not a unilinear process" (p. 12). Saouli?s positioning of states on a formation/de-formation continuum is particularly creative (p. 13).?The book will be of interest not only to those studying Arab politics, but also to scholars interested in state weakness, variation in state capacity, and state collapse." Abdelwahab Kayali (International Journal of Middle East Studies)
My second, Hezbollah: Socialisation and its Tragic Ironies (2019), explores the genesis and development of Lebanon?s Hezbollah.
"In his exquisite study, Hezbollah: Socialization and its Tragic Ironies, Adham Saouli places Hezbollah somewhere between domestic Lebanese politics and its armed struggles against Israel. On one side the narrative battles of a militant subnational consciousness and on the other an asymmetrical warfare with a massive military machinery:? Hezbollah here in fact emerges as a postnational twist to Schmittean concept of the political, crafting militant virtues out of existential threats to its very viability. Impeccably researched, thoroughly documented, judiciously balanced, and beautifully written, Adham Saouli?s book sets a new measure for a new generation of scholarship in this field." Hamid Dabashi, Columbia University
I am now working on the origins and contemporary political impact of the Arabo-Islamic concept of Fitna.
PhD supervision
Mohamad-Mehdi Berjaoui
Helen Murphey
Selected publications