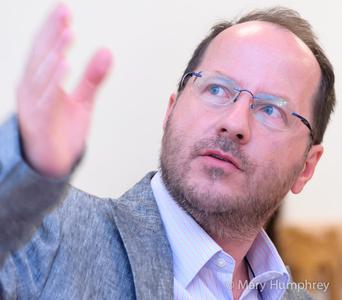 Dr Tomasz Kamusella
Reader
Phone

Email

Location

St Katharine's Lodge

Office hours

By email appointment
Biography
I was born in Upper Silesia, at that time in communist Poland. I received education at universities in the Czech Republic, Poland and South Africa. I did postdoctoral research at universities and institutes in Austria, Germany, Italy, Japan, and the US. I worked in Poland and Trinity College Dublin, before moving to St Andrews in 2011.
Teaching
Honours modules
MO3332 From Commonwealth to Nations and Nation-States: Poland-Lithuania in the Long Nineteenth Century and Beyond
MO3333 Language and Nationalism in Central Europe
MO3353 The Rise of the Nation State in Central Europe, 1810-1923
MO3425 Stalinism, Nazism and Central Europe, 1912-1941
MO4965 Ethnic Cleansing and Genocide in Twentieth-Century Europe
Masters (MLitt) modules
HI5010 Directed Reading (MLitt in Strategic Studies)
MO5151 Global Times - Plural Spaces
MO5503 Central and Eastern Europe Since 1945
MO5602 Directed Reading
MO5606 Perceptions of Central and Eastern Europe
MO5710 Crossing Borders: European History in Transnational Perspective
Research areas
I am an interdisciplinary historian of modern central and eastern Europe, with a focus on language politics and nationalism. In 2001 received a PhD in Political Science from the Institute of Western Affairs (Instytut Zachodni), Poznań, Poland. (It is a leading think tank of the Polish Ministry of Foreign Affairs.) A decade later, in 2011, I obtained a Habilitation ('continental 2nd PhD') in Cultural Studies from SWPS University of Social Sciences and Humanities, Warsaw, Poland. Between 1995 and 2007 I worked at Opole University, Poland, and afterward in Trinity College Dublin and Cracow University of Economics, before joining the University of St Andrews in 2011. Meanwhile, I did research as a postdoctoral fellow in the European University Insitute in Florence, the Kluge Center for Scholars in the Library of Congress, the Institute for Human Sciences (IWM) in Vienna, the Herder-Institut in Marburg, and the Slavic-Eurasian Research Center in Sapporo, Japan.
In the first decade of the 21st century I published several books on the history and politics of language in Upper Silesia and across central Europe. In 2007, the Purdue University Press (West Lafayette IN) brought out my doctoral monograph on how ethnic and national groups emerged in Silesia, between 1848 and 1918, from the early modern society of unequal estates. Two years later, in 2009, Palgrave published my highly-acclaimed encyclopedia-size Habilitation work on how languages and nationalisms were constructed across modern central Europe, leading to the emergence of ethnolinguistic nation-states in this region. As a result, in central Europe, the nation is defined as all speakers of a language, for whom a state should be carved out with diregard for any historical borders or polities.
The methodological problem is that historians treat langauge as a 'black box,' while linguists perceive languages as ahistorical entities. For both groups I wrote a brief monograph (Palgrave 2015) on how langauges were constructed in line with political needs in Europe during the last millennium. I followed with another 'corrective' monograph (Palgrave 2017) on the nationally-induced anachronism of treating the early modern Commonwealth of Poland-Lithuania as an 'early Poland,' or an 'early Lithuania.'
With scholars from Australia, Europe, Israel, Japan and Zimbabwe I co-edited volumes on the political and social history of languages in southern Africa (Pagrave 2018) and in Slavophone Europe (Palgrave 2016), alongside a volume on modernity and national identity in Upper Silesia (Routledge 2016). Recently, I published a monograph on the unduly forgotten 1989 ethnic clenaisng of Bulgaria's Turks, which precipitated the end of communism in this country (Routledge 2018).
At present I work on Historical Atlas of Language Politics in Modern Central Europe, the politics of the number of Slavic languages during the last two centuries, and the transfer of the idea of the ethnolinguistci nation state from central Europe to southeast Asia and Ethiopia. For further details see my profiles on Academia.edu and ResearchGate.
Former Phd & MPhil students
Lukáš Bagin (MPhil) From Centre to Periphery: Reassessing the Velvet Revolution from the Slovak Perspectives
Catherine Gibson (European University Institute > External PhD Advisor) Nations on the Drawing Board: Ethnographic Map-making in the Russian Empire's Baltic Provinces, 1840-1920
PhD supervision
Selected publications