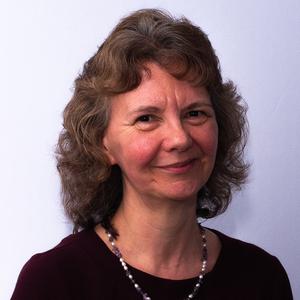 Prof Margaret Connolly
Professor of Palaeography and Codicology
Phone

Email

Location

Mediaeval History, 71 South Street

Office hours

By appointment
Biography
Margaret Connolly is Professor of Palaeography and Codicology in the Schools of English and History, and Director of the St Andrews Institute in Medieval Studies. After completing her MA and PhD degrees at the University of St Andrews, Margaret Connolly took up a lectureship in Medieval and Renaissance English at University College Cork. She was Assistant Dean of Arts there between 1996–1999, and was promoted to Senior Lecturer in 2004. Margaret was also Government of Ireland Visiting Fellow at Clare Hall, Cambridge in 2002–03 and is a life member of that college.
Margaret is a General Editor of the Middle English Texts series published by Winter, Heidelberg. She is chair of the advisory board for the Index of Middle English Prose, and on the editorial board of the Journal of the Early Book Society. She was a General Editor of The Mediaeval Journal (Brepols) from its foundation until 2022.
Margaret specializes in Middle English language and literature and has expertise in the fields of manuscript studies and book history. Other interests are in the editing of Middle English texts and textual criticism; medieval translation; the post-medieval reception of medieval texts and manuscripts including fragments; nineteenth-century Chaucer scholarship; and the development of personal libraries and collections in the modern period. She welcomes applications from postgraduates in any of the research areas outlined above.
Research areas
My main research interests are in Middle English literature, especially devotional texts and prose writing of all types, and in the manuscript contexts in which medieval texts survive. My most recent monograph, Sixteenth-Century Readers, Fifteenth-Century Books: Continuities of Reading in the English Reformation (Cambridge University Press, 2019) considers the reception of medieval texts and shows how Tudor readers used and valued their old medieval manuscripts. I have also worked on medieval scribal production (John Shirley: Book Production and the Noble Household in Fifteenth-Century England) and have recently co-edited the collection of essays Scribal Cultures in Late Medieval England (with Holly James-Maddocks and Derek Pearsall). I have published a volume for the Index of Middle English Prose (Handlist XIX: Manuscripts in the University Library, Cambridge, Dd-Oo), and have co-edited several other collections of essays including Design and Distribution of Late Medieval Manuscripts in England (with Linne Mooney), and Insular Books: Vernacular Manuscript Miscellanies in Late Medieval Britain, and Editing and Interpreting Middle English Texts (both with Raluca Radulescu). Editing and textual criticism is an important strand of my work, and I have produced scholarly editions for the Early English Text Society and for Middle English Texts. I am a General Editor of The Mediaeval Journal and of the Middle English Texts series published by Winter (Heidelberg), and chair of the Advisory Board of the Index of Middle English Prose.
PhD supervision
Brenden Benjamin
Sidney Wilson
Phoebe Macindoe
Bethan Okroj-Williams
Lucy Turton
Emily Taylor
Selected publications