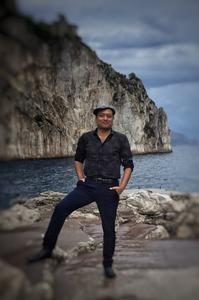 Dr Milinda Banerjee
Lecturer in Modern History
Phone

Email

Location

St Katharine's Lodge

Office hours

Friday 4 to 5
Research areas
I joined St Andrews in 2019 as Lecturer in Modern History. I specialize in History of Modern Political Thought and Political Theory, post-1700. Originally from Calcutta (India), I had earlier researched and taught at Heidelberg University, Presidency University Calcutta, and Ludwig-Maximilians-University Munich. At St Andrews, I am Programme Director for the MLitt in Global Social and Political Thought.
I specialize in the intersections of Indian/South Asian and global intellectual history and global political theory, as well as in political and economic theology. My doctoral dissertation has been published as The Mortal God: Imagining the Sovereign in Colonial India (Cambridge University Press, 2018). I have co-edited volumes on royal nationalism, dynasty, and legal thought in relation to modern global history. I have written about canonical Indian and European political thinkers, examining the globalized production and circulation of ideas about state sovereignty, nationalism, democracy, property, and religion. Introducing perspectives of Subaltern Studies into debates on global intellectual history, I have centre-staged subaltern intellectual history, examining the political and social thought of peasants, Adivasi/Indigenous actors, and refugees. My most recent research focuses on rethinking human-nonhuman relations in the age of the Anthropocene/Capitalocene.
I am an Associate Editor of the journal Political Theology (Routledge), and the founder-editor of two series with De Gruyter, 'Critical Readings in Global Intellectual History', and 'Transregional Practices of Power'. Currently, I supervise the doctoral research of Philipp Sperner (LMU Munich) on political thought in twentieth-century Hindi-speaking North India. I welcome queries from potential doctoral students interested in any aspect of modern British imperial and global intellectual history, early modern and modern Indian/South Asian history and/or thought, as well as connected histories of Scotland and India.
Selected publications