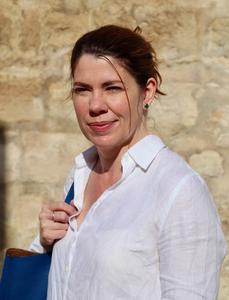 Prof Justine Firnhaber-Baker
Professor
Phone

Email

Location

Mediaeval History, 71 South Street

Office hours

By appointment
Research areas
Late medieval France, power, violence, and law
I work on power in the later Middle Ages, looking at how it worked in institutions, like royal and seigneurial courts, and in social interactions, such as wars, revolts, and lawsuits. Most of my research has focused on France under the Capetian and Valois dynasties, and I have a special love for the fourteenth century (#bestcentury), which was the period of the Hundred Years War and the Black Death.
My first book, Violence and the State in Languedoc, 1250-1400, showed how the royal French state dealt with the wars waged by nobles and other powerful people against one another at a time when no one could claim a 'monopoly on legitimate violence' in the way that modern governments do. My second, The Jacquerie Revolt of 1358, is about is about one of the most famous – but mysterious – medieval uprisings when villagers took up arms against the nobility, unleashing unprecedented waves of bloody violence and counter-vengeance across northern France. My third, House of Lilies: The Dynasty that Made Medieval France, tells the story of the Capetian royal family, who created the most powerful and prestigious kingdom in Christian Europe through a combination of luck, skill, and sheer (often bloody) ruthlessness.
I teach a variety of undergraduate modules and postgraduate reading classes related to my interests and am happy to talk to prospective PhD students and postdoctoral researchers about their projects.
PhD supervision
William Mulloy
Nathan Meades
Selected publications