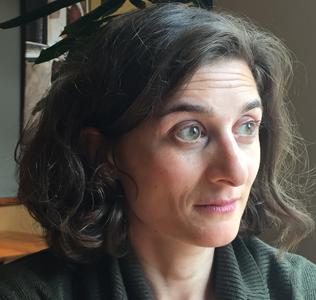 Prof Emily Michelson
Professor
Phone

Email

Location

St Katharine's Lodge

Office hours

By appointment
Biography
I am a cultural historian of religion, with a special interest in Italy 1400-1700, religious diversity and encounter, mobility and walking. I earned my undergraduate degree in History and Literature from Harvard University, and my PhD in History and Renaissance Studies from Yale in 2006. I taught for three years at the University of Utah before moving to St Andrews in 2009.
Teaching
I enjoy teaching on all of my research topics topics as well as on the intellectual, social and artistic traditions of Renaissance Italy. I welcome inquiries from students interested all aspects in the Renaissance, the Reformation in Catholic regions, or the social and cultural history of Italy. I currently teach on the first-year survey MO1007, and 'History as a Discipline' (HI2001. At honours level I offer modules on Renaissance Venice, Early Modern Rome, Renaissance Italy, Saints and Sanctity, Walking Early Modern Europe, and Blood, Glory, Judgment: Early Modern Catholicism.
Research areas
I am a cultural and religious historian of early modern Italy. Most of my research coalesces around two fundamental questions:
How did early modern people balance their private beliefs with public actions?
How did close contact affect the way different religious groups interacted and imagined each other?
These questions have inspired all of my research, in various ways. My first book (The Pulpit and the Press in Reformation Italy, Harvard UP 2013), applied these questions to Catholic preachers in Italy as they reacted to the many competing pressures of the Protestant Reformation. My second book (funded by a British Academy mid-career grant and an AHRC early-career fellowship), Catholic Spectacle and Rome's Jews: Early Modern Conversion and Resistance, reconstructs the spectacle of forced conversion sermons to Jews in Rome, held publicly ever week from the 16th through the 18th centuries. The book argues that the spectacle of these sermons became the city's most powerful platform for promoting both conversion and Catholicism in a changing world, and, more broadly, that these rhetorical and ceremonial uses of Jews reveal Catholic concerns about globalization, Islam, and Protestants. I have also co-edited one volume of essays in honor of Prof. Carlos Eire, and a second, more recently, on the varieties of religious minorities in early modern Rome, a book which reveals a surprising level of religious diversity and interaction at the heart of the Eternal City.
I am increasingly interested in the role of space, mobility, and especially the act of walking on foot in changing the way we think, especially in regard to interfaith encounters and religious minorities in the early modern world.
I am co-editor (with Prof. Harald Braun, Liverpool) of the Routledge interdisciplinary book series Renaissance and Early Modern Worlds of Knowledge.
Selected publications