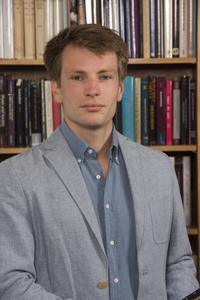 Dr Arthur der Weduwen
British Academy Fellow
Research areas
I am a Dutch historian and postdoctoral fellow at the University of St Andrews. I am interested in cultural and political history, especially that of the early modern period (c. 1500-1800). My research focusses on the history of news, books, libraries, communication and politics.
I arrived at St Andrews by way of Amsterdam, Jerusalem, Nairobi and Exeter. I defended my PhD in Modern History at St Andrews in 2018, after which I took up a position as a postdoctoral researcher at the same university, associated with the Universal Short Title Catalogue project.
In 2017 I published my first monograph, the first complete survey of all seventeenth-century Dutch and Flemish newspapers. In March 2019, my second major work, a study of the book culture of the Dutch Golden Age, co-written with Andrew Pettegree, appeared simultaneously in Dutch and English. My interest in newspapers was taken up again in two studies of early newspaper advertising, published in February and March 2020, co-authored with Andrew Pettegree.
In 2020 I was awarded a British Academy Postdoctoral Fellowship. Over the next three years I will be working on a project entitled 'The Culture of Catastrophe. The Dutch Republic and the Legacy of the Disaster Year, 1672-1748'. In this project, I explore the devastation of the Dutch Republic in the summer of 1672, when the country was simultaneously attacked by an international alliance of four states, led by the King of France, Louis XIV. It would take the Dutch two years to liberate themselves, and another forty years to confront the power of France. This long struggle, and its troublesome aftermath, fundamentally reshaped Dutch society. I will explore how the Disaster Year and its reverberations were experienced, remembered and appropriated by Dutch citizens, and how these processes exercised broader influence on cultural developments in the Netherlands.
My next major project to have appeared in print is a history of libraries, from Ancient Alexandria to Google. The Library, a Fragile History, co-written with Andrew Pettegree, was published by Profile in October 2021 (in the UK) and by Basic Books in November 2021 (in the USA).
PhD supervision
James McCall
Johanna De Lange
Giovanni Petrocelli
Jacob Baxter
Basil Bowdler
Maria Zukovs
Alexa Zildjian
Zachary Brookman
Barnaby Cullen
Selected publications