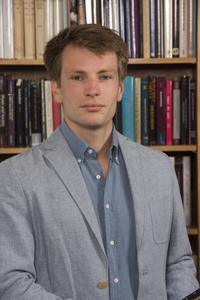 Dr Arthur der Weduwen
USTC Project Manager & Lecturer
Research areas
I am a Lecturer in Modern History and Co-Director and Project Manager of the Universal Short Title Catalogue project. My specialism lies in the history of the Netherlands, but I have enjoyed broadening my research in recent years to encompass Europe generally, as well as more specifically the history of Anglo-Dutch relations, Scandinavia, the Baltic and Eastern Europe.
The first subject of my research career was the history of newspapers, which resulted in the publication of the first complete bibliography of seventeenth-century Dutch and Flemish newspapers (Brill, 2017), as well as two co-authored studies on the invention and development of newspaper advertising (both Brill, 2020). I have also worked extensively on the history of early modern printing, the book trade and book collecting, producing two co-authored public-facing monographs on the book trade of the Dutch Golden Age (Yale UP, 2019) and a global history of libraries (Profile, 2021).
My most recent major publication, State Communication and Public Politics in the Dutch Golden Age, is partially based on the PhD thesis that I defended at St Andrews in 2018, a study of state communication in the Dutch Republic (OUP, 2023). This work describes the political communication practices of the authorities in the early modern Netherlands: the manner in which government sought to inform its citizens, publicise its laws, and engage publicly in quarrels with political opponents. These communication strategies, including proclamations, the use of town criers, and the printing and affixing of hundreds of thousands of edicts, underpinned the political stability of the seventeenth-century Dutch Republic. I am now expanding this research by embarking on a comparative European study of the communication of law.
I have also undertaken work as part of my British Academy Postdoctoral Fellowship (2020-2023) on the writing and publishing of history in the seventeenth and eighteenth centuries, focussing as a case study on the canonisation of events in the Dutch Disaster Year (1672) and the Franco-Dutch War (1672-1678).
I have published four co-edited volumes on the history of book catalogues, the Reformation and the book, the early modern book trade and the first prominent Dutch historical schoolbook.
I have been a visiting fellow at Trinity College Dublin, the University of Leiden, the Herzog August Bibliothek Wolfenbüttel and the University of Padua.
At St Andrews I teach at undergraduate and postgraduate levels on the history of the book, printing and public opinion, and the Dutch Republic.
PhD supervision
James McCall
Giovanni Petrocelli
Jacob Baxter
Chloe Akers
Saba Alkuwari
Alexa Zildjian
Basil Bowdler
Adyan Sharda
Barnaby Cullen
Maria Zukovs
Zachary Brookman
Mhairi Winfield
Selected publications