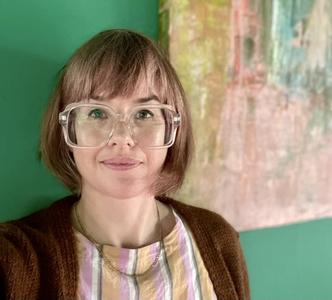 Dr Lucy Fife Donaldson
Senior Lecturer
Phone

Email

Location

101a North Street

Office hours

Tuesday 10am-noon
Biography
Lucy Donaldson's research focuses on film and television style, audiovisual design and 'below-the-line' labour, performance and the body, and videographic criticism. She is the author or co-editor of six books, including her monograph, Texture in Film for Palgrave Macmillan's series: Palgrave Close Readings in Film & Television (Series Editors: Gibbs, John & Douglas Pye), Television Performance (Red Globe Press, 2019)  (co-edited with James Walters), and most recently, Epic / everyday: Moments in television (Manchester University Press, 2023) (co-edited with Sarah Cardwell & Jonathan Bignell).
Lucy's writing and audiovisual work has appeared in journals including  Movie: A Journal of Film Criticism, CineAction, Critical Studies in Television, Film-Philosophy, Alphaville: Journal of Film and Screen Media,  The New Soundtrack and [in]Transition: Journal of Videographic Film and Moving Image Studies, as well as in edited volumes on television aesthetics, kinesthetic empathy, monstrosity, film Biopics, screen sound, european crime drama, and the animated film, Toy Story.  
Lucy has received funding from the Carnegie Trust, the Social Sciences and Humanities Research Council (SSHRC) in Canada and the Leverhulme/British Academy, including her current project on the film colour consultant, George Hoyningen-Huene, for which her audiovisual essay on the contribution of George Hoyningen-Huene as colour consultant to Les Girls (1957), which was included in Sight & Sound's best video essays of 2022 and received an honorable mention in the BAFTSS practice research awards 2022. 
Lucy is an editor of Movie: A Journal of Film Criticism, and co-edited issues 6 (2015) and 10 (2021-22), which featured special dossiers on 'moments of texture' in film and television and 'the politics of close analysis, and its object'. She is a General Editor of the Television Series (Manchester University Press) with Professor Jonathan Bignell and Dr Sarah Cardwell, and an Editorial Advisor for Routledge Resources Online: Screen Studies. From 2020-23 she was co-director of the Centre for Screen Cultures with Dr Philippa Lovatt. 
PhD supervision
Jacob Browne
Jiawei You
Milo Farragher-Hanks
Lyndsay Townsend
Philippa Orme
Selected publications