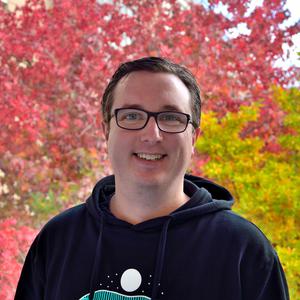 Dr Brian Chalmers
Lecturer
Biography
Dr Chalmers gained a PhD, supervised by Dr Petr Kilian, in 2015 at the University of St Andrews with his research focusing on arsenic and antimony peri-substituted acenaphthenes. Afterwards, he completed one year as a EPSRC Research Fellow in the same research group. Brian joined the Faculty of the School of Chemistry as an Education Focused Assocaite Lecturer in 2016. He was promoted to Lecturer (Education Focused) in 2019.
In 2020, Dr Chalmers won the Best Teacher in Science Award in the Students' Association Teaching Awards.
Teaching
Dr Chalmers is primarily focused toward teaching practical chemistry techniques/skills to undergradute students of all levels. He is experienced in developing new chemistry laboratory courses/experiments. In addition to teaching within the School of Chemistry, he has a variety of roles in connection with the School and RSC outreach activities.
Brian contributes to teaching a both sub-honours and honours levels. He covers a wide range of topics in inorganic chemistry to direct entry students in CH1202 as workshop-style lectures and lectures atmospheric chemistry in CH2501 Inorganic Chemistry.
Brian is the coordinator of the Inorganic Lab courses, CH2501 and CH3521 and has heavily contributed to the development of experiments and resources within these. He is also involved in the CH1202 introductory lab for direct entry students, CH3441 mini-projects, CH4421 research skills labs and the 4th/5th year honours research projects.
He is involved in small-group or whole class tutorials for many modules (CH1401, CH1402, CH1601, CH2501, CH3512, CH3514) and is also the inorganic coordinator for Integrating Chemistry (CH4461/CH5461).
He is a member of the Teaching Committee and the coordinator of the Staff Student Consultative Committee.
Dr Chalmers is the Chemistry Coordinator for the interdisciplinary module ID4001 (Communication and Teaching in Science).
Selected publications