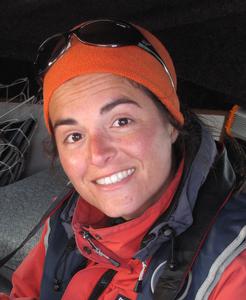 Dr Monica Arso Civil
Senior Research Fellow
Research areas
My research interests focus on marine mammal population dynamics and how these can inform on the conservation status of wild populations. 
My PhD thesis focused on the ecology of bottlenose dolphins off the East coast of Scotland, in which I estimated population parameters (survival and fecundity rates) for this resident population and looked at the use of the area of St Andrews Bay and the Firth of Tay.
Current projects
Harbour seal decline project
Populations of harbour seals have been declining around the east and north coast of Scotland and in the Northern Islands since around 2000, while populations on the West Coast and in the Western Islands have been stable or increasing. My research aims to estimate vital rates for harbour seals in areas of contrasting trajectories to inform population dynamics models and ultimately get a better understanding of the main (potential) drivers for the decline.
Check more information at http://synergy.st-andrews.ac.uk/harbourseals/
Bottlenose dolphins in St Andrews Bay and the Tay
Research on bottlenose dolphins conducted in St Andrews Bay and the Tayside since 2003 has shown how this area is used every summer by half of the estimated total population that ranges between the Moray Firth and the Firth of Forth. The entrance to the Firth of Tay has been identified as a high use area for at least part of the population. We are continuing monitoring the use of this area outside the Moray Firth SAC, conducting photo-ID surveys during the summer months.
Citizen Fins
In recent years, sightings of individuals from the east coast of Scotlan bottlenose dolphin population have become more frequent to the south of the Tay Estuary (Fife), in the Firth of Forth and also further south along the southeast Scottish coast and into northeast England. These observations indicate a continuing expansion of the population's distributional range, first detected during the mid 1990s as anecdotal sightings of known animals increased outside the Moray Firth, along the Grampian coast and in the Tay estuary. In September 2020 we launched  "Citizen Fins", a project that combines research and citizen science. The project invites members of the public to submit photographs of bottlenose dolphins that can be used to identify them, and help better understand how the movements of animals between the east coasts of Scotland and England have changed. This will contribute to the monitoring of this population and to understanding how anthropogenic activities along our coasts might impact them.
Selected publications