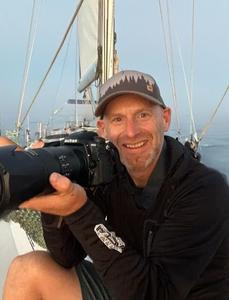 Dr Gordon Hastie
Senior Research Fellow
Research areas
Risk balancing by marine predators
Animals that live under threat of predation have evolved behavioural strategies enabling them to perform essential tasks such as forage whilst minimising risks. This balancing of risk involves a range of behavioural adjustments in response to changes in prey availability and perceived threat levels. I am interested in understanding the cognitive, behavioural, and energetic facets associated with risk balancing and decision making in foraging marine predators.
Use of dynamic habitats by marine predators
In marine systems, tidal and meteorological processes, together with geographical features such as narrow coastal channels effectively create habitats that are in constant flux due to water movements. My research looks to understand the unique challenges and opportunities this creates for marine predators using them.
Impacts of marine renewable energy technologies
Many countries have set ambitious targets for renewable energy, with energy from offshore sources anticipated to form an important part of this; this has led to the proposed installation of wind, wave, and tidal energy converters around the coast. However, these are potentially hazardous to marine mammals and understanding how they perceive and respond to renewable devices is critical to ensure that they can co-exist at the scales currently being envisaged for the industry. My research includes studies of the impacts of wind farm construction on harbour seals and behavioural responses of seals to tidal stream energy devices.
Research Group
Katherine Whyte, PhD student, University of St Andrews. "Behavioural responses by seals to offshore energy activities". Co-supervised with Debbie Russell (SMRU), Len Thomas (CREEM), and Carol Sparling (SMRU Consulting).
Izzy Langley, PhD student, University of St Andrews. "Inter-specific Interactions: investigating the role of grey seals in the harbour seal decline". Co-supervised with Debbie Russell (SMRU), Paul Thompson (University of Aberdeen), and Andrew Brownlow (SAC).
Gemma Veneruso, PhD student, Bangor University. "Investigating disturbance of small cetaceans from offshore anthropogenic developments". Co-supervised with Line Cordes and Lewis LeVay (University of Bangor).
Laura Palmer, PGRA, Acoustic data analyst for marine mammal/tidal turbine interactions project.
Michael Oswald, Engineer, Equipment and sensor design for NERC Innovative Monitoring Techniques project.
Alumni
Joe Onoufriou, PhD student, University of St Andrews. "Effects of tidal turbines on the movements of marine predators in tidally energetic areas". Co-supervised with Dave Thompson (SMRU), Liz Masden (UHI), Jared Wilson (Marine Scotland), and John Baxter (SNH).
Nienke Van Geel, Scottish Association for Marine Science. "Predator movements in complex geography: Spatial distribution and temporal occurrence of low-density bottlenose dolphin communities off western Scotland". Co-supervised with Ben Wilson (SAMS).
PhD supervision
Selected publications