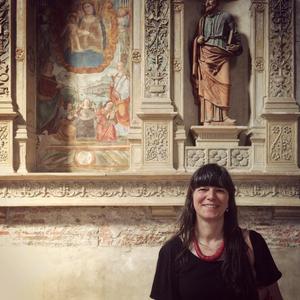 Prof Laura Moretti
Head of the School of Art History
Research areas
Laura Moretti took her undergraduate degree in architecture and also holds a professional performance diploma in violoncello. She has a PhD in architectural history, and has been working for several years on the relationship between architecture and music. She has held prestigious post-doctoral and research positions (Department of History of Art, University of Cambridge, 2005-07; Worcester College, University of Oxford, 2007-10; Villa I Tatti, The Harvard University Center for Italian Renaissance Studies, 2010 and 2014-15).
In 2005-08 she participated in the project 'Architecture and Music in Renaissance Venice' led by Professor Deborah Howard at the University of Cambridge. In 2014-16 she has been the co-ordinator of the International Network 'Daniele Barbaro (1514-70): In and Beyond the Text', funded by the Leverhulme Trust. In 2016-20 she co-directed, with Daryl Green (Edinburgh University Library, Centre for Research Collections), the research and impact project 'Thinking 3D'. She has curated and co-curated several exhibitions and organised events in Italy and UK related to these projects, including Thinking 3D from Leonardo to the present at the Bodleian Libraries, Oxford.
She is the author of In the House of the Muses: Collection, Display, and Performance in the Veronese Palace of Mario Bevilacqua (1536-93), Turnhout: Brepols; London: Harvey Miller, 2020; Dagli Incurabili alla Pietà. Le chiese degli Ospedali Grandi veneziani tra architettura e musica (1522-1790), Florence: Leo S. Olschki, 2008, and the joint author (with Deborah Howard) of Sound and Space in Renaissance Venice. Architecture, Music, Acoustics, New Haven and London: Yale University Press, 2009. She is the co-editor of Daniele Barbaro 1514-1570. Vénitien, patricien, humaniste, Turnhout: Brepols, 2017 (with Pierre Caye, Frédérique Lemerle and Vasco Zara); Daniele Barbaro (1514-70). Letteratura, scienza e arti nella Venezia del Rinascimento, Cornuda (Treviso): Antiga, 2015 (with Susy Marcon), La chiesa e l'ospedale di San Lazzaro dei Mendicanti. Arte, beneficenza, cura, devozione, educazione, Venice: Marcianum Press, 2015 (with Alexandra Bamji and Linda Borean), The Music Room in Early Modern France and Italy: Sound, Space and Object, Oxford: Oxford University Press, 2012 (with Deborah Howard), and Architettura e Musica nella Venezia del Rinascimento, Milan: Bruno Mondadori, 2006 (with Deborah Howard).
She is currently working on a monograph provisionally entitled Inventing the Museum. The Houses of Collectors in Sixteenth-Century Italy. Her latest articles include 'Tintoretto's Louvre "Paradise" in Palazzo Bevilacqua, Verona', The Burlington Magazine 162/1408 (2020): 570-578; 'From the Vite or the Ritratti? Previously unknown portraits from Vasari's Libro de' Disegni,' I Tatti Studies 21/1 (2018): 105-136 (co-authored with Sean Roberts), and 'The palazzo, collections, and musical patronage of Niccolò Gaddi (1536-1591),' Journal of the History of Collections 29/2 (2017): 189-207.
She would welcome research students with interests in any area of Italian art and architecture c.1450-1600.
Selected publications