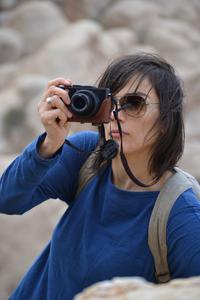 Dr Anthi Andronikou
British Academy Postdoctoral Fellow
Biography
Anthi Andronikou is British Academy Postdoctoral Fellow. Before joining the School of Art History, she was Mary Seeger O'Boyle Postdoctoral Research Fellow at Princeton, where she worked on the artistic multiverse of the eastern Mediterranean in the thirteenth century. Anthi has a BA (Art and Archaeology) and an MPhil (Byzantine Art) from Athens, as well as an MLitt (Late Medieval and Renaissance Italian Art) from St Andrews, where she also completed her PhD in 2015. She has been an awardee of the British School at Rome and Dumbarton Oaks Research Library and Collection, Harvard, and participated in the early-career research programme "Art of the Crusades: A Re-Evaluation" led by the SOAS Institute and the Getty Foundation. Her research has appeared in the Art Bulletin and Artibus et Historiae.
Research areas
Anthi specializes in medieval and early modern art from a comparative and interdisciplinary perspective, with a focus on the visual culture of southern Italy, the Holy Land and Cyprus. Her research interests include Crusader art and material culture in the Latin East, the Italian trecento, Byzantine and post-Byzantine art, medieval Bolognese manuscripts, and cultural theory. She also investigates fourteenth-century Venetian art and its reverberations in the visual language of Lusignan and Venetian Cyprus (1192-1571). Beyond medieval and early modern art, Anthi has written on modern and contemporary painting and sculpture. Her co-edited volume with Emeritus Professor Peter Humfrey, The Pittas Collection: Mythological Paintings and Sculptures has been published with Mandragora (Florence 2019).
Anthi currently works on two book projects. The Medieval Art of Translation: Visual Culture in the Eastern Mediterranean, c.1200-1300 brings together a range of artistic media (painting, minor arts and sculpture) to probe transcultural and transconfessional visual idioms in what are nowadays Cyprus, Egypt, Israel, Lebanon, Palestine, southern Italy, southern Turkey and Syria, by drawing on theories of cultural translation. Her second book explores crosscurrents in the visual culture of Italy and Cyprus in the thirteenth and fourteenth centuries.

Selected publications