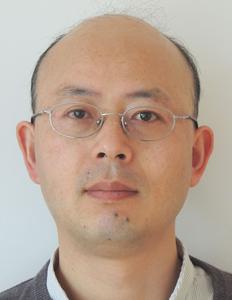 Dr Wenchang Li
Reader
Research areas
My research uses young frog tadpoles as a simple model system to study the basic neuronal mechanisms underlying motor control. Apart from basic motor reflexes, tadpoles can swim forward when touched and struggle when held, with both behaviour powered by axial muscles. They also exhibit some acute, concussion-like response when swim into solid objects. The tadpole spinal cord and hindbrain are simple and highly accessible for recordings, making it an ideal place to investigate rules that may be common to the movements of different animal species. I?m also interested in how these mechanisms mature during neural development. Our research methods include electrophysiology, calcium imaging, optogenetics, mRNA microinjections, anatomy and computer modelling.
General information on tadpoles
Lab members

Yi Lou PhD student funded by the Chinese Scholarship Council and the University of St Andrews.
Giulia Messa co-supervised PhD student from Dr Stella Koutsikou's lab in the University of Kent.
Valentina Saccromano MSc student co-supervised with Prof Laura Ballerini from SISSA
Co-supervised students from Dr stefan Pulver's lab working on Drosophila maggot motor control:
James Macleod PhD student
Troy Takemori MRes student
Opportunities
PhD positions: I always welcome inquiries from students with genuine research interests on potential PhD projects, which can be on either locomotion or developmental plasticity. You should hold or expect to hold at least an upper second first degree in neuroscience or related subjects.
China Scholarship Council and University of St Andrews Scholarships This is suitable for students of Chinese nationality in the last year of your BSc or MSc study. The deadline of which is usually January every year. Therefore you need to contact me well in advance to discuss potential projects for your application.
Postdoctoral positions:
Start Date: 1 November 2019 or as soon as possible thereafter, Fixed Term: 3 years
This is a fixed term position for 3 years, available from 1 Nov, 2019. It is widely known that the activity of a neural network is shaped by its connectome. However, this structure-function relationship is not fixed and may change dynamically. In frog tadpoles, motor circuits that generate forward swimming can produce backward-thrusting struggling if the tadpole is held. Whereas swimming involves a wave of muscle contractions propagating from head to tail, struggling is a slower but powerful rhythm that propagates from tail to head. Continuous sensory inputs trigger reconfiguration in tadpole motor circuit by recruiting additional groups of neurons while depressing the activity of other groups of neurons (Li et al., 2007; Li 2015, J Neurosci). Such recruitment/de-recruitment is achieved through changes in the biophysical properties of the neurons and their synapses. We will define these biophysical changes and determine how they reconfigure motor circuits. The main techniques to be used are visually-guided current- and voltage-clamp whole-cell recordings similar to those used on brain slices, calcium imaging, dynamic clamping and optogenetics. Previous training in electrophysiology is essential and experiences in microscopic dissections are desirable. This project will involve close collaboration with Dr Joel Tabak-Sznajder in the University of Exeter and Prof Roman Borisyuk in Plymouth University to help them build computational models of both swimming and struggling circuitry and analyze the dynamics of their transition. There is also opportunity to get some undergraduate teaching experience if desired. please contact me (wl21@st-andrews.ac.uk) directly for more details.
Former lab members
Nicola Porter: PhD student funded by BBSRC, now a free lance science writer.
Dr Peter Moult: postdoctoral research fellow funded by Wellcome Trust, now a lecturer at Abertay University.
Dr Hong-Yan Zhang: short-term postdoctoral research fellow funded by Wellcome Trust, now has her own lab in the University of Edinburgh.
Dr Erik Svensson: postdoctoral research fellow funded by BBSRC, now a postdoctoral researcher in Uppsala Universitet in Sweden.

Monica Wagner: research assistant funded by BBSRC, now being trained to become a vet.

Collaborators
Dr Steve Soffe and Prof Alan Roberts at the University of Bristol
Prof Roman Borisyuk at Plymouth University
Dr Joel Tabak-Sznajder in the University of Exeter
Prof Keith Sillar at the University of St Andrews
Dr Hong-Yan Zhang: at the University of Edinburgh
Dr Xinhua Shu: at Glasgow caledonian University
PhD supervision
Selected publications