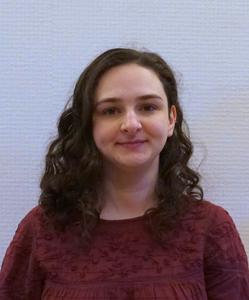 Dr Eve Holden
Associate Lecturer
Biography
I joined the University of St Andrews in 2022 as an Associate Lecturer (Education Focused). I teach on several modules including teaching statistics to second years, and supervising undergraduate and masters research projects. I also sit on the school ethics committee. Before joining St Andrews I worked as a lecturer in psychology at the University of Dundee.
I completed both my BSc (Hons) in Psychology with Biology and my MSc in Evolutionary and Comparative Psychology, at the University of St Andrews. I then completed my PhD in Psychology at the University of York.
During my PhD I was a member of the Primate Society of Great Britain's student subcommittee. I am currently a member of their Equality, Diversity, and Inclusion subcommittee.
Teaching
PS2001 Advanced Principles of Psychology 1: Statistics lectures, statistics labs, and tutorials
PS2002 Advanced Principles of Psychology 2: Statistics lectures, statistics labs, and tutorials
PS3023 Psychological Statistics and Research Methods 3A: Workshops
PS4040 Psychology Review: Supervisor
PS4299/PS4050 Psychology Project: Supervisor
PS5013 Origins of Mind: Psychology Master's Research Project: Supervisor
Some examples of project supervision topics:
Sex differences in non-human primate infant/juvenile behaviour.
Non-human primate mother behaviour and how this may vary depending on e.g. the sex of her offspring, parenting experience, or ranking.
Parenting and infant social experiences (in humans) and how this might be impacted by aspects such as class, culture, race, gender, and sex (this could be looked at from varying perspectives such as investigating parenting attitudes, drivers of social behaviour towards infants/children, or diversity in infant experience).
How conclusions based on data collection in different settings may vary (e.g. humans lab settings vs nurseries, or non-human primates in the zoo vs the wild).
Other topics of interest include communication, cooperation/prosociality, joint attention, and social learning
Research areas
My research interests are broad, they mostly lay in comparative and developmental psychology. I am particularly interested in using observational methods to understand communication and social behaviour in wild non-human primates. I also conduct research on variation in human infant experience, parenting behaviours, and infant social cognition, particularly in a cross-cultural context. I am also interested in questions in the area of the psychology of teaching and learning, looking at topics such as strategies that help students learn, and what teachers can do to best support that learning.
My PhD thesis looked at early experience and joint attention in human infants from the UK and Uganda, as well as infant chimpanzees and macaques. I have first hand experience with a wide variety of research methods including observational vocal and behavioural data collection in wild non-human primates (vervet monkeys and chimpanzees). I also have experience using observational methods, questionnaires, interviews, and behavioural experiments with humans in the UK and Uganda.
In collaboration with students, and colleages at St Andrews and other institutions, I am currently working on projects on the following topics:
Social behaviour in crested macaques and chimpanzees
Chimpanzee vocal communication
Cross cultural development of social cognition in infants
Factors associated with cooperation in childhood
Techniques teachers can apply to help university student learning
Selected publications
Open access

Maternal attitudes and behaviours differentially shape infant early life experience: a cross cultural study

Holden, E.

,

Buryn-Weitzel, J. C.

,

Atim, S.

,

Biroch, H.

,

Donnellan, E.

,

Graham, K. E.

,

Hoffman, M.

,

Jurua, M.

,

Knapper, C. V.

,

Lahiff, N. J.

,

Marshall, S.

,

Patricia, J.

,

Tusiime, F.

,

Wilke, C.

,

Majid, A.

&

Slocombe, K. E.

,

21 Dec 2022

,

In:

PLoS One.

17

,

12

,

30 p.

, e0278378.

Research output: Contribution to journal › Article › peer-review