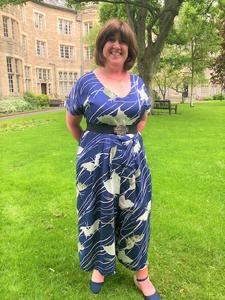 Dr Anne Marie Craig
Research Fellow
Research areas
Research Culture in the University of St. Andrews:
Currently working on SARIRF funded research project looking at research culture across the University of St. Andrews and how this has been impacted by the Covid-19 pandemic.
Developing and operationalising an outcomes-focused framework for the National Institute for Health research (NIHR):
Applying the concepts of knowledge mobilisation across complex adaptive systems (CAS) discussed in my thesis, to the notion of Outcomes Focused Philanthropy developed by the Hewlett Foundation to co-develop a cross-organisational framework to facilitate communication and decision making across the CAS of the NIHR, capturing the collective contributions of the research efforts towards the organisational mission of improving the health & wealth of the nation.
From Framework to Real Work: an exploration of knowledge mobilisation across a complex adaptive system: PhD Thesis
Drawing on literatures on the creations, sharing and use of knowledge and on the principles of complexity theory, the study considered how the ambitions of a government policy were actualised into changes in practice by a group of Allied Health Professionals (AHPs) working with children and young people.
The qualitative, longitudinal study adopted a critical realist approach to explore the experiences of a groups of AHPs, their leaders and representatives of the Scottish Government as they sought to move services towards early intevention-prevention practices.
From Framework to Real Work: knowledge mobilisation across a complex adaptive system (PhD Thesis)
Drawing together literatures on epistemic artefacts and key features of complex systems, the study revealed how the attributes of complex systems, interconnectiviely, capacity for self-organisation and adaptation in response to feedback, could be harnessed to deliver desired outcomes.
Empirical Contribution: The research provides longitudinal, empirical evidence to a field that has received predominantly theoretical attention, offering a rich, detailed account of knowledge mobilisation amongst an under-researched group of key actors within health and social care.
Practical Contribution: The study provides an ontologically deep exploration of factors impacting on individuals and collectives as they sought to create, share and implement their knowledge to deliver changes in practice. The refined CMO theories resonated with the experience of stakeholders and provide practical guidance on how key factors of CAS were harnessed to support the development and spread of innovation.
Implications: Knowledge is a catalyst for changes in practice. The scale up and spread of change across CAS is faciliated through different forms of leadership, fostering an allocentric disposition between individuals and collectives, and through micro-processes of context-sensitive feedback.
Selected publications