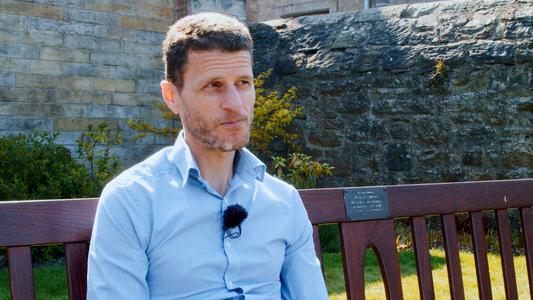 Dr Benjamin Sachs-Cobbe
Senior Lecturer
Biography
Dr. Sachs-Cobbe was born and raised in San Diego, California.  He received a bachelor's degree at the University of Illinois and a PhD at the University of Wisconsin.  Prior to coming to St. Andrews he was an Assistant Professor/Faculty Fellow in the Program in Environmental Studies and the Department of Bioethics at New York University, and prior to that a Postdoctoral Fellow in the Department of Bioethics at the National Institutes of Health (U.S.).
Teaching
Dr. Sachs-Cobbe teaches classes on ethics, political philosophy, philosophy of law, animal ethics, philosophy of economics, and distributive justice.
Research areas
Dr. Sachs-Cobbe is working with Alex Douglas on an AHRC-funded project called The Future of Work and Income. The project takes as its jumping-off point the ever-increasing worries about the future of work (automation, zero-hours contracts, increased childcare costs, etc.) and concerns about widening economic inequality.  It seeks to clarify central conceptual and ethics questions at the heart of these concerns, for the purpose of enabling more productive discussions of proposed solutions, including, e.g., a universal basic income, a jobs guarantee, and a shorter working week.
It's natural to think that the state owes things to its people: physical security, public health and sanitation services, and a functioning judiciary, for example.  But is there a theory—a political morality—that can explain why this is so, and also identify who the state's 'people' are?  My book argues that contractarianism is well suited to ground political morality and goes on to explore the implications of deploying it in this way.  The book offers a quite extreme rejection of the idea that the moral facts should be the basis on which we set our collective goals and make our laws; it also develops a novel, moderate position on the appropriate political and legal status of sentient animals.
Prior to the above-mentioned project and book, Dr. Sachs-Cobbe's research included work on ethical theory, coercion, and the ethics of reesearch on human subjects.
PhD supervision
Selected publications