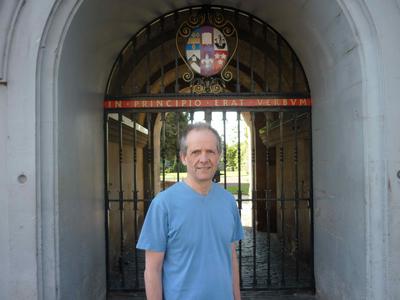 Dr Christopher Beedham
Honorary Lecturer
Research areas
Dr Beedham graduated with a BSc in German and Russian from the University of Salford, England, in 1976, which included 6 months working as a translator for Intertext, Berlin, GDR, a 3-month study period in Voronezh, Soviet Union, and 3 months studying Russian at the Internat St Georges, Meudon, Paris.  In 1979 he graduated from Salford with a PhD on non-passivizable transitive verbs in English, German, and Russian – in which he used the method of exceptions and their correlations (formerly known as the method of lexical exceptions) for the first time - whereby he spent the first two years as a research student in the Sektion TAS (Theoretische und Angewandte Sprachwissenschaft) at the University of Leipzig, GDR. His PhD thesis was published by Narr in 1982 as The Passive Aspect in English, German and Russian (reviewed by Catherine Chvany in Folia Slavica 1987/8.2,3:352-60), and articles summarising the findings were published for German in Deutsch als Fremdsprache 1987/24:160-65, for Russian in Voprosy Jazykoznania 1988/6:63-8, for English in Word 1987/38:1-12, and for general linguistics in the Journal of Linguistics 1981/17:319-27.

From 1979-1981 he worked as a Research Assistant on English for Special Purposes, with some German teaching, at the University of Aston, Birmingham, England. From 1982-1984 he occupied a British Council post as an English Language Teaching Assistant in the English Dept. of the Philological Faculty at Moscow State University, Soviet Union.  From 1984-2018 he worked as a lecturer in the German Dept. in the School of Modern Languages (SoML) at the University of St Andrews, Scotland, teaching the linguistics of modern German, general linguistics (to students in the SoML and generally in the Faculty of Arts), German history 1919 to the present day, 20th century German literature, and German language.
He set up and ran a student exchange programme between St Andrews and the University of Leipzig, GDR, from 1985-1990, during which time 10 Leipzig students of English spent a year at St Andrews, and 15 St Andrews students of German spent a year in Leipzig.  One of the St Andrews students, Fiona Rintoul, wrote a novel based on her experience in Leipzig, The Leipzig Affair, which became a BBC Radio 4 Book at Bedtime.
In 1995 he published German linguistics: An introduction, Munchen: Iudicium.  Reviewed by Christopher M. Stevens, Michigan German Studies 1995 XX.2:165-8;  Bill Dodd, German Journal of the Association for Language Learning (ALL) 1996 14:47-8;  Ralph Hartmann Info Daf: Informationen Deutsch als Fremdsprache 1997 24:198-200;  Michael Townson, Modern Language Review 1997 92.4:1004-6;  Philip E. Webber, Language 1997 73.3:687;  Hans-Jurgen Grimm, Deutsch als Fremdsprache 1998 35(4):247-8.  (Webber 1997 is printed as a Book Notice, but in reality it is a review).

He was Head of the German Dept. from 2006-2016 (except for the calendar year 2011 and the session 2013/14, i.e. for 8 years within a 10-year period), and Director of LISA (the Linguistics Institute of St Andrews) from 2008-2013.
In 2005 he published his major work on the method of exceptions and their correlations, Language and Meaning:  The Structural Creation of Reality, with Benjamins.  Reviewed by Peter Suchsland in Deutsch als Fremdsprache 2005 44(1):51-2, Michael B. Smith in the Modern Language Review 2008 103/1:155-6 and Amy Gregory in LINGUIST List 2006 October Vol-17-3168.  For comments by Randolph Quirk, David Crystal, Gerhard Helbig, M.A.K. Halliday, Karl-Dieter Bunting and Jean-Emannuel Tyvaert see the book's webpage on the publisher's (Benjamins) website.

From 2001-2016 he supervised three PhDs on various topics.  From 2006-2021 he supervised four PhDs which used the method of exceptions and their correlations.  They were:
Warwick Danks, The Arabic Verb:  Form and Meaning in the Vowel-Lengthening Patterns, co-supervised for Arabic by Catherine Cobham (Dept. of Arabic), 2009, Benjamins 2011, reviewed by Michael Waltisberg in Language 2012 88:634-6 and Andrzej Zaborski in Folia Orientalia 2010 50:403-5.
Samirah Aljohani, 'An aspectual analysis of the adjectival passive in English:  Subsective gradience in 2nd participles', 2018. Published with Peter Lang in 2022 under the title How adjectival can a participle be? Subsective gradience in English 2nd participles.
Michelle Leese, 'The impersonal passive in German of the type Es wurde getanzt:  A structural analysis', 2019. Published with Peter Lang in 2022 under the title Form, Meaning and Aspect in the German Impersonal Passive.
Benjamin Catchpole, 'Irregular verbs in German, English and Swedish:  Vowel-consonant and consonant-vowel sequences, and the spling experiment', co-supervised for Swedish by Ted Bergman (Dept. of Spanish), 2021.
Three of Dr Beedham's former PhD students currently (2022) hold a teaching and research post at a university.
He supervised the following MSt (res) [Master of Studies by Research] student:
Mark Dawson, 'Applying the "Method of Exceptions and their Correlations" to the Verb System of Modern French', co-supervised for French by David Evans (Dept. of French), 2020.
The Honours (= 3rd and 4th yr.) modules which Dr Beedham taught which are most closely linked to his research are 'GM3080 Grammatical Rules and Lexical Exceptions in Modern German' (taught and examined in English or German depending on the prevailing circumstances) and 'ML3201 Grammatical Rules and Lexical Exceptions in Modern English'.  His book German Linguistics: An Introduction (Iudicium, 1985) was written mainly on the basis of module GM3080, and his book Language and Meaning was written on the basis of module ML3201.  Most of his PhD students came from those two modules.  In 2002 he taught ML3201 at the Ben-Gurion University of the Negev, Be'er Sheva, Israel.  In 2007 he taught ML3201 as an international Summer School held at the University of St Andrews, Scotland.  In 2016 he taught (in German, part of) GM3080 at the University of Bonn, Germany, in a Blockseminar, for which he had to apply for and was given a Lehrauftrag (honorary temporary lectureship).
His current research is on irregular verbs in German, Russian, and English, using once again the method of exceptions and their correlations.  He hopes that other linguists will try out the method on their own areas of grammar in their own languages, and to that end he organised the Summer School and Conference on the Method of Lexical Exceptions in St Andrews 2-8 September 2007.  The updated proceedings of this event were published by Peter Lang in 2014 under the title Rules and Exceptions: Using Exceptions for Empirical Research in Theoretical Linguistics (reviewed by Winfried Boeder in Linguistische Berichte 2017 251:357-63 and Werner Abraham in Germanistik 2014 55.1/2:30-31).
Dr Beedham retired in 2018, but continues (2022) to be research active.

Selected publications