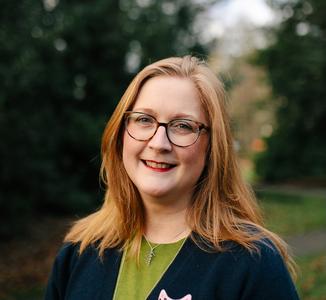 Dr Anna Brown
Lecturer
Biography
I research processes of learning, and how people become skilled in and through practice. This incorporates ways of knowing, reflexive practice, creativity, craft, and apprenticeship. I am also interested in embodied research methods, in particular auto-ethnography and apprenticeship.
My research and approach to teaching draws on my practice as a professional ceramicist, and Fine Art training (BA Hons 2003). I am part of a collective that runs a ceramics gallery and studio in Edinburgh, and can often be found working with clay at the potter's wheel. I also have professional experience in economic development and the public sector, having previously worked for the South West Regional Development Agency delivering the UK Government's Business, Innovation and Skills agenda in the South West of England.
I completed a MLitt in Managing in the Creative Industries (2012), and a PhD in Management Studies (2017), at the University of St Andrews. My doctoral thesis followed my own experiences in becoming a potter as part of the wider Scottish craft industy. I am interetsed in research collaboratons in regards to craft, and embodied ways of knowing, as well as practice-based and process studies.
In April 2019 I was awarded a Teaching Excellence Award for innovation in teaching.
Teaching
MN5501 Scenario Thinking and Strategy
Selected publications and performances
Evaluation of Year 3, and the full three-years of the Student Transitions Enhancement Theme: Evaluation Report

Brown, A. M.

, Dennis, A.,

Gordon, L. J.

, Howden, S. & Jindal-Snape, D.,

Sep 2017

,

QAA for Higher Education

.

Research output: Book/Report ? Commissioned report

Skillful coping: processes of becoming and being in practice

Brown, A.

,

Greig, G. J.

&

Ferraro, E. R.

,

Jul 2017

,

Skillful Performance: Enacting Capabilities, Knowledge, Competence, and Expertise in Organizations.

Sandberg, J., Rouleau, L., Langley, A. & Tsoukas, H. (eds.).

Oxford University Press

, (Perspectives on Process Organization Studies (P-PROS); vol. 7).

Research output: Chapter in Book/Report/Conference proceeding ? Chapter (peer-reviewed)

Sensing bodies: the aesthetics of knowing and practising

Brown, A.

,

Greig, G.

&

Ferraro, E.

,

22 Mar 2016

,

Knowledge and Practice in Business and Organisations.

Orr, K., Nutley, S., Russell, S., Bain, R., Hacking, B. & Moran, C. (eds.). New York:

Routledge

,

p. 89-102

14 p.

Research output: Chapter in Book/Report/Conference proceeding ? Chapter