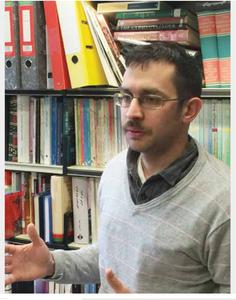 Dr Siavush Randjbar-Daemi
Lecturer in Modern Middle Eastern History
Phone

Email

Office

Room 6b

Location

United Colleges

Office hours

On Research Leave (Semester 2)
Research areas
Siavush's core research interests lie in the evolution of the state in modern and contemporary Iran, and the contribution to the public sphere, particularly in periods of relative pluralism, such as the early 1950s or 1979-1981, of a variety of actors, from crowds formed by subaltern parts of society to socio-political elites.
 His first book, The Quest for Authority: A History of the Presidency from Revolution to Rouhani, is the first full-length monograph to focus on the presidential institution in the Islamic Republic, from its inception to the present day.
Siavush is now working on a long-term project which will yield a number of outputs, the turbulent and unique political history of the 1977-1981 period through the lens of the "Other Revolutionaries", those parts of the anti-monarchical coalition which succeeded in bringing the Pahlavi monarchy to an end but who were ejected from the public sphere by the early 1980s.
 Another strand of his research concerns the history of the Iranian Left and in particular the entanglement between European and Iranian strands of communism. 
In March 2021, Siavush was co-organiser of the first-ever (bilingual) academic conference focused on the Tudeh Party of Iran in the Western academic sphere, on the occasion of the Eightieth anniversary of its foundation.
Siavush's article on the Tudeh Party of Iran's attitude towards the land reform initiatives of the Pahlavi state in 1958-1964 was the winner of the 2023 Elie and Sylvia Kedourie Prize for Outstanding Article.
Siavush is co-editor of Fada'i Guerrilla Praxis in Iran, 1970 - 1979
Narratives and Reflections on Everyday Life (Bloomsbury/IB Tauris, 2023), a new anthology on the everyday life challenges of the Fada'i guerrillas in the 1970s.
Siavush is a keen student of the evolution of the Iranian press, and has collaborated with the University of Manchester Library in the creation of Nashriyah www.library.manchester.ac.uk/nashriyah, the first openly-accessible repository of relevant Iranian periodicals from the 20th century. He is currently also producing a number of outputs on the life and times of several publications of the 1979 and 1951-53 period.
Besides Italian and English, Siavush's work has been published in several Persian language media, including the Akhbar-e Rouz, Asr-e Nou and Radio Zamaneh websites, and the Andisheh-ye Pouya, Bukhara, Negah-e Now and Shahrvand-e Emrouz journals published in Iran.
Siavush warmly welcomes prospective PhD applicants who intend to base their dissertation on any of the strands detailed above. His current research supervision includes various aspects in the history of the Tudeh Party of Iran, the evolution of the car industry in the Pahlavi era and the activities of the Iranian opposition to the Shah in the Middle East in the 1960s and 1970s.
PhD supervision
Leonard Michael
Behzad Lotfi
Selected publications