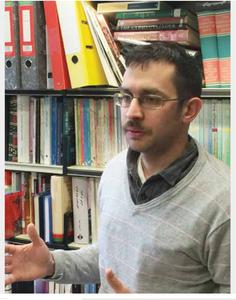 Dr Siavush Randjbar-Daemi
Lecturer in Modern Middle Eastern History
Phone

Email

Office

131

Location

Arts Building

Office hours

Monday 10am to 11am (MO4853), Monday 11am to 12pm (MO3582), MLitt by appointment.
Research areas
Siavush?s core research interests lie in the evolution of the state in modern and contemporary Iran, and the contribution to the public sphere, particularly in periods of relative pluralism, such as the early 1950s or 1979-1981, of a variety of actors, from crowds formed by subaltern parts of society to socio-political elites. His first book, The Quest for Authority: A History of the Presidency from Revolution to Rouhani, is the first full-length monograph to focus on the presidential institution in the Islamic Republic, from its inception to the present day. He is now working on his second monograph, a study of the turbulent and unique political history of the 1979-1981 period through the lens of the ?Other Revolutionaries?, those parts of the anti-monarchical coalition which succeeded in bringing the Pahlavi monarchy to an end who were ejected from the public sphere by the early 1980s.
Another strand of his research concerns the entanglement between European and Iranian strands of communism. He is research-active in Italian, and has recently conducted archival research in Rome on the relations between the Partito Comunista Italiano and the Tudeh Party of Iran in both the 1950s and the 1970s.
Siavush is a keen student of the evolution of the Iranian press, and has collaborated with the University of Manchester Library in the creation of Nashriyah www.library.manchester.ac.uk/nashriyah the first openly-accessible repository of relevant Iranian periodicals from the 20th century. He is currently also producing a number of outputs on the life and times of several publications of the 1979 and 1951-53 period.
Siavush warmly welcomes prospective PhD applicants who intend to base their dissertation on any of the strands detailed above.
PhD supervision
Leonard Michael
Guan Kiong Teh
Selected publications