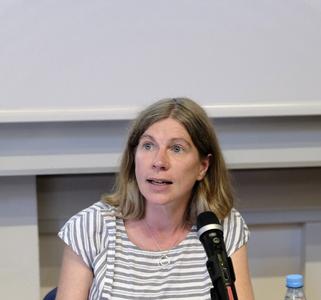 Dr Sarah Easterby-Smith
Senior Lecturer
Biography
I joined St Andrews as a lecturer in 2012 and was promoted to senior lecturer in 2018. I have a PhD in History from the University of Warwick (2010), and subsequently held an Early Career Fellowship at the Institute of Advanced Study, University of Warwick, a Max Weber Fellowship at the European University Institute and a Dibner Fellowship in the History of Science at the Huntington Library, California.
Teaching
I teach and research eighteenth-century cultural and social history, focusing the global connections and transnational links made between France, Britain and the wider world. My courses examine aspects of the relationship between science, society and culture in the eighteenth century, and on how information, knowledge and cultural influences moved (or failed to move) between nations and across social groups. This is reflected in my 3000-level honours modules on the French Revolution, on Franco-British cultural relations and on society and culture in the Indian Ocean World. My 4000-level special subject, 'Curiosity, Empire and Science in 18th-Century Europe' uses the history of collecting and material culture to explore these themes at a deeper level, as does my MLitt teaching on global and transnational history, social history and the history of science.
In summary, my teaching and research interests encompass the histories of consumption, collecting and gender in the eighteenth century as well as the history of science and global history. I would be happy to hear from students considering pursuing any of these themes for undergraduate or postgraduate study.
Research areas
Making Knowledge, Forging Empire?
My current research project examines French collection of data about the natural world around the Indian Ocean rim in the second half of the eighteenth century. It aims to establish the extent to which the French absolutist state controlled or directed the scholarly activities of its colonial officials. Understanding the history of such data collection and study is important because eighteenth-century French colonial policies depended substantially on the accumulation of natural knowledge. This is often termed 'colonial botany' in the historiography.
Based on micro-historical studies of French families and their associates, 'Making Knowledge, Forging Empire' asks who sought to develop natural knowledge, how information about the natural world was obtained, and what happened to that knowledge once formed. It investigates how information collection was mediated by social participation, especially with regard to the selection of data and its (re)presentation. Working from the principle that eighteenth-century scholarly activity was heavily influenced by major power differentials such as race and gender, the project pays careful analytical attention to the nature and extent of interactions between French officials and local (or other itinerant) informants, to the extent to which French colonial families participated in scholarly activity and to the labour histories – particularly of forced labour – that underpinned all such activities.
Cultivating Commerce: Cultures of Botany in Britain and France, 1760-1815
My 2018 monograph exposes and analyses the links between botany, the plant trade, and cultures of connoisseurship, in France, Britain and their empires during the politically turbulent period of 1760-1815. It shows in particular how plant traders acted as key cultural, social and intellectual intermediaries, selling specimens and sharing information with communities of connoisseurs, botanists, gardeners and other consumers. Cultivating Commerce is as much a social and cultural history as a history of science, and it revises existing historical accounts by demonstrating the extent to which the science of botany was affected by the wider commercial, scholarly, and cultural transitions experienced in Britain and France in the late eighteenth and early nineteenth centuries.
PhD supervision
James Fox
Conall Treen
Benoit Gaume
Manon Williams
Selected publications