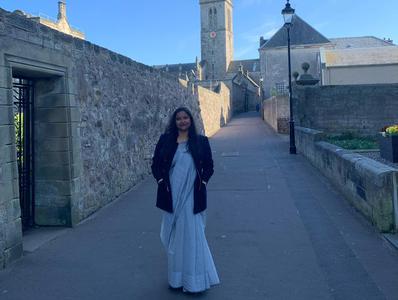 Ms Shuvatri Dasgupta
Associate Lecturer
Teaching
MO1007: The Early Modern Western World (1450- 1770)
MO3389: History of Gender and Sexuality in South Asia (1800-2000)
Research areas
Originally from Calcutta, India, I am currently a doctoral candidate in the Faculty of History, University of Cambridge, funded by the Cambridge Trust and Rajiv Gandhi Foundation Fellowship. I am also an Editor for the Journal of The History of Ideas blog. Since 2021, I have co-convened an interdisciplinary research network funded by CRASSH and The Centre for Gender Studies, University of Cambridge, titled 'Grammars of Marriage and Desire' (GoMAD).
My doctoral dissertation studies the history of marriage, family, and lineage in the British Empire. Focussing on India between 1770 and 1947, it analyses the intimate lives of the colonised by examining a diverse range of social groups: from princes and landowners, to urban middle classes, peasants, and other labouring actors. I also demonstrate that British, especially Scottish, colonial administators shaped the legal debates around marriage in colonial India. The thesis argues that these colonial interventions generated a crisis of care and wellbeing amongst human and nonhuman beings. This crisis consolidated a gendered property-owning individual subjectivity. It furthered the breakdown of family, lineage, and kinship. The resultant ontology of sadness and affective crisis shaped the emergence of anticolonial political-economic ideas, that led to the dismantling of the British Empire in South Asia.
My general research interests include global history, gender history, intellectual history and political thought, legal history, histories of empire, histories of capitalism, and environmentalism.