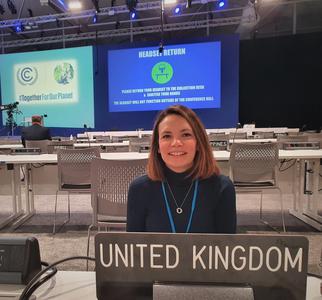 Dr Louise Reid
Senior Lecturer in Sustainable Development and Geography
Biography
I gained my first degree, an MA(Hons) in Environmental Geography in 2003 at the University of Aberdeen, immediately followed by an MSc in Sustainable Rural Development (2004). From then until 2006, I worked as a Research Assistant at the University of Aberdeen and the James Hutton Institute (formally the Macaulay Land Use Research Institute) on interdisciplinary EU-funded projects. Having gained experience working as a researcher, I decided academia was for me, and completed an ESRC-Scottish Government funded collaborative PhD studentship in Human Geography entitled 'Environmental behaviour change: a role for household diaries?' (2010, University of Aberdeen).
I joined the University of St Andrews in 2010, initially as a Post-Doctoral Research Fellow in the Centre for Housing Research, before becoming a Lecturer in Sustainable Development and Geography in 2011, and Senior Lecturer in 2019.
I also hold the following roles:
Teaching
Currently I am head of First Year Sustainable Development MA/BSc.
I am module co-ordinator for:
SD1000 'What is Sustainable Development'
SD1004 'Sustainable Development: Challenges and Opportunities'
SD3111 'Home and Energy Geographies'
Vertically Integrated Project (VIP) 'Environmental Ethics at Work'
I contribute to a range of other modules such as SS5101 'Being a Social Scientist', GD5801 'Interrogating Sustainable Development', SD3000 'Contesting Sustainability', SD2001 'Sustainable Development: Frameworks for Implementation' as well as dissertation supervision.
Research areas
My research surrounds home and its relations with sustainability and wellbeing/health, often in relation to 'smart' technologies. I am primarily interested in the experience of home but also how homes are imagined by a diverse range of people, and what this means for the future of home.
Between 2013-2018 I held an ESRC Future Research Leader's Award 'Smarter Homes' when I investigated low carbon living in homes across the UK and Netherlands. The experience of smart technologies has been a key interest of mine and has evolved to also explore technology-enabled care at home, for instance via a RSE Sabbatical Research Fellowship 'Homes that Care?' (2019-2021) and Carnegie Trust Research Incentive Grant (2019-2021). I work with a range of collaborators, including at the James Hutton Institute (via ESRC collaborative PhD studentships 2016-2020, 2021-2024) and the University of Bonn (via a Global Doctoral Studentship 2022-2025).
PhD supervision
Selected publications