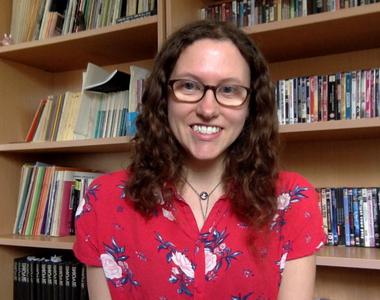 Dr Zoe Shacklock
Lecturer in Film Studies
Biography
Zoë Shacklock joined the Department of Film Studies in 2018, after teaching film and television studies at the University of Warwick, and cultural studies at Birmingham City University. She holds a BA in Screen Studies and a BSc in Zoology from the University of Melbourne, and a PhD from the University of Warwick.
Her research focuses on the body in contemporary television as a site for articulating discourses of quality, gender and sexuality, and empathy. She is particularly interested in exploring how televisual bodies reflect and fit the features of the medium itself, and hence become a key site for working through changes in definitions of television with the rise of streaming. She is particularly interested in queer television and queer embodiment on screen, and has most recently presented this work at the Scottish Queer International Film Festival.
She is currently working on her first monograph, which focuses on kinaesthesia in television drama. This work suggests that contemporary serial television shares a focus on the body, particularly the body in motion, a focus that befits a medium concerned with the intimate, the proximate, the mobile, and the communal. Rather than reaching towards a cinematic aesthetics, television's meaning and impact emerges from its kinaesthetics, or the way in which it uses the movement and spatial dynamics of the body for the construction of narrative meaning, emotional impact, and political engagement.
Teaching
Semester one 2019/2020:
FM1001 Key Concepts in Film Studies - module convenor
FM4116 Stars - module convenor
Semester two 2019/2020:
FM2002 Film Theory, Culture, and Entertainment - lecturer
FM4306 Feminist Film Studies - module convenor
FM4099 Film Studies Dissertation - module convenor
FM5001 Theory and Practice of Research - lecturer
PhD supervision
Olivia Booker
Peize Li
Isaac Pletcher
Philippa Orme
Selected publications