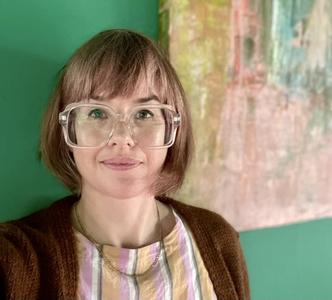 Dr Lucy Fife Donaldson
Senior Lecturer
Phone

Email

Location

101a North Street

Office hours

Monday 2:30pm-4pm or via https://calendly.com/lfd2
Biography
Dr Donaldson's research focuses on film style, audiovisual design, texture, performance and the body. She is interested in bringing together close textual analysis with issues of embodiment, experience and sensation, and drawing on connections to a range of other disciplines, such as dance, philosophy and art. Her research interests include the staging and presence of performance in cinema and TV; the relationship between bodily affect, agency and effort; structures of engagement with film, specifically its materiality; genre, especially horror and melodrama; the contribution of 'below the line' film designers to the materiality of cinema and videographic criticism.
Dr Donaldson has published on the materiality of performance in post-studio horror and its relationship to elements of film style, on performance and intertextuality in Biopics, the relationship between camera and performer in US cop series The Shield and the contribution of foley artists to the effort and affect of performance.She has also published work on the intertextual echoes embedded in film and television space, in a chapter on a series of films directed by Budd Boetticher, and in an article on the British television drama Inspector Morse for her work on the AHRC-funded project 'Spaces of Television: Production, Site and Style' as a post-doctoral researcher. She has published on performance in Television, collaborating with Dr James Walters, University of Birmingham on an edited collection and an article for a special issue of Critical Studies in Television.  
In 2014, Dr Donaldson published a monograph Texture in Film for Palgrave Macmillan's series: Palgrave Close Readings in Film & Television (Series Editors: Gibbs, John & Douglas Pye). The book is a strongly interdisciplinary study of the concept of 'Texture' in relation to mainstream cinema, and discusses this in relation to its usage in film criticism, narrative, genre and specific decisions around mise-en-scène (lighting, aspect ratio, composition), editing, sound and bodies on-screen. Her approach is based in close textual analysis, bringing together discussion of style, criticism and technology.
In 2019, Dr Donaldson published a co-edited collection Television Performance (Red Globe Press) with Dr James Walters. This innovative and timely collection offers a wide-reaching critical evaluation of performance in television, mapping out key conventions, practices and concerns while introducing performance theory and criticism to the established field of television studies. Chapters from leading scholars move through a range of examples from different styles and genres, from Game of Thrones to America's Next Top Model. Individual performances are analysed in close detail as the authors debate central questions of meaning, value and achievement. 
Dr Donaldson's recent publications include an audiovisual essay on the contribution of George Hoyningen-Huene as colour consultant to Les Girls (1957), which was included in Sight & Sound's best video essays of 2022.
Dr Donaldson is an editor of Movie: A Journal of Film Criticism, and co-edited issues 6 (2015) and 10 (2021-22), which featured special dossiers on 'moments of texture' in film and television and 'the politics of close analysis, and its object'. She is a member of the Editorial Board of MAI: Feminism and Visual Culture, General Editor of the Television Series (Manchester University Press) with Professor Jonathan Bignell and Dr Sarah Cardwell, and co-Director of the Centre for Screen Cultures with Dr Philippa Lovatt. 
PhD supervision
Jacob Browne
Jiawei You
Milo Farragher-Hanks
Lyndsay Townsend
Philippa Orme
Selected publications