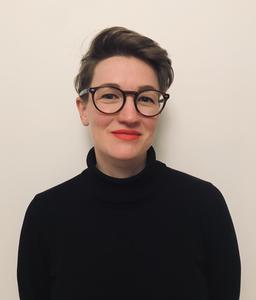 Dr Kirsty Sinclair Dootson
Lecturer in Film Studies
Research areas
Dr Dootson's research examines the relationship between making and meaning in visual culture from the nineteenth century to the present. Her work interrogates the links between materials, technologies, aesthetics and ideologies across a range of media. She is particularly interested in the material and technical history of colour media and the global history of Technicolor cinema.
Her current book project The Rainbow's Gravity asks how new ways of making colour profoundly transformed the meaning of colour in modern Britain. Exploring a range of chromatic technologies from the 1850s to the 1960s, the book considers both the material mass production of colour in the form of paints, inks and dyes, as well as chromatic mass media including printing, photography, film and television. The book explores how, through these new chromatic technologies, colour became a means for negotiating, celebrating and contesting the social and cultural transformations wrought by industrial modernity — from the mechanisation of labour in the Victorian era, and the decline and collapse of the British Empire in the twentieth century, to the changing racial makeup of Britain in the post-war period.
She is also currently working on a co-edited volume with Alice Lovejoy (Minnesota) and Pansy Duncan (Massey), exploring the material, technical, and social history of film stock, as well as a project on the history of the film laboratory.
Dr Dootson received her PhD in Film and Media Studies with History of Art from Yale University in 2018, and also holds degrees in Film and Television Studies from Warwick University, and in History of Art from Cambridge University. Prior to her arrival at St Andrews she was a Junior Research Fellow at Newnham College Cambridge.
Dr Dootson welcomes enquiries from potential PhD students with interests in the material and technical history of film, global colour media, modern British visual culture - particularly film and media history, and any aspect of below-the-line and industrial film labour.
PhD supervision
Lyndsay Townsend
Anushrut Ramakrishnan Agrwaal
Selected publications