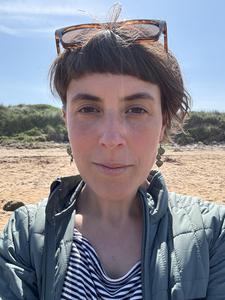 Dr Kristen Treen
Lecturer in American Literature
Phone

Email

Office

Room 40

Location

Castle House

Office hours
Biography
Kristen Treen studied for a BA in English at Jesus College, Cambridge, before completing an M.Phil in American Literature at King's College, Cambridge. She went back to King's as a Wolfson Postgraduate Scholar in the Humanities, and completed her Ph.D in American Civil War literature, memory, and material culture in 2017.
Kristen's research focusses on nineteenth- and early-twentieth-century American literature and its formal intersections with objects and material states. Her thesis, which she is currently revising for publication, traces how the material remnants left behind by the American Civil War shaped literary form, commemorative expression, and concepts of national identity between 1861 and 1905. This research took in battlefield souvenirs, the broken possessions of the invaded southern home, and commemorative monuments, among other bits and pieces. Kristen has written on the impact of Civil War objects on current affairs in the States for Apollo and the U.S. National Council for Public History.
Kristen's current research project, on degraded materialities and American nationalism in Gilded Age America, is interested in the relationships between texts, objects, and affective states. She is also working on a collaborative projects on nineteenth-century American literature and the haptic, and the Civil War's Modernist afterlives. Alongside her work on the Civil War, Kristen has published writing on nineteenth-century visual technologies and popular psychology, and on Marianne Moore?s poetic experimentation with stenography.
In addition to her academic writing, Kristen has been a contributor to The Observer, The Literary Review, and Apollo, and is a contributing editor of online quarterly The Junket.
PhD supervision
Devin Jacobsen
Isabel Dollar
Selected publications