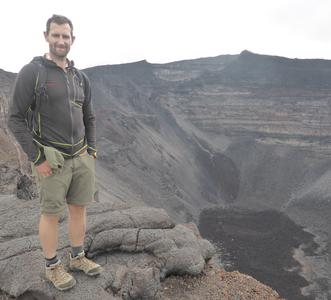 Dr Nicholas Gardiner
Lecturer in Applied Earth Resources
Biography
2019: Lecturer, School of Earth and Environmental Sciences, University of St Andrews
2018-19: Research Fellow, School of Earth, Atmosphere and Environment, Monash University, Melbourne
2015-18: Research Fellow, Department of Earth and Planetary Sciences, Curtin University, Perth
2013-15: Postdoctoral Research Assistant, Department of Earth Sciences, University of Oxford
2011-13: Vice President, JP Morgan Commodities, London
2010-11: Vice President, Deutsche Bank Commodities, London
2005-09: Vice President, Merrill Lynch Commodities, London
---
DPhil Isotope Geochemistry & Metamorphic Petrology, University of Oxford
MSc Geochemistry, University of Leeds
BA (Hons) Geology, MA, University of Oxford
Teaching
Director, MSc in Strategic Earth Resources
Research areas
I am a petrologist whose research focuses on the magmatic and metamorphic processes that have shaped the evolution of Earth?s lithosphere, and the development of its metal resources, from the Archaean to the present day. My current research focus broadly divides into two areas:
Archaean geodynamics and magmatism. With colleagues, I apply geochemical and isotopic techniques to mafic and evolved rocks to understand (a) settings of crust production on the early Earth; and (b) the nature and timescales of craton assembly and stabilization. I have worked in Western Australia, West Greenland and South Africa. I have also investigated linking isotopic and trace element modelling to phase equilibria modelling, to understand the nature of isotopic evolution during partial melting processes.
Processes leading to the development of magmatic-hydrothermal mineralization, with an emphasis on lithophile deposits. I am particularly interested in the use of accessory mineral chemistry to understand the evolution of magmatic systems before and during vapour saturation, and to trace the mobility of metals of interest.
Selected publications