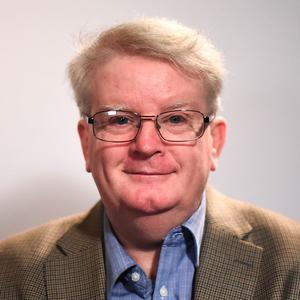 Dr William Hyland
Lecturer in Church History
Biography
William Hyland joined the School of Divinity in 2013. He has previously taught at several American universities, including Cornell University (NY), Benedictine College (Kansas), and St Norbert College (Wisconsin), where he was the first Director of the Center for Norbertine Studies and held the Clarence Heidgen Chair of Catholic Studies. He holds a BA from Emory University and an MA and PhD from Cornell University.
Dr Hyland is President of the editorial board of the book series Premonstratensian Texts and Studies (Cistercian Publications). He specializes in Medieval Church history and theology, with a particular focus on monasticism, spirituality, and Mariology.
Dr Hyland is a founding member of the Cusanus Society UK & Ireland, dedicated to exploring the life, times, and thought of the fifteenth-century reformer, theologian and philosopher Nicholas of Cusa. He is also very involved in SAIMS, The St Andrews Institute for Medieval Studies.
Dr Hyland also maintains a blog relating to many of his interests:
https://festinalentehyland.wordpress.com/
Teaching
Teaching:
DI2006  The Early and Medieval Church: History, Beliefs and Practices
DI3718 Mary Through the Centuries

DI4525  Medieval Monastic Spirituality
DI4526  Christian Mysticism Through the Ages
DI 5522 Selected Patristic Theologian: Cyprian of Carthage
DI5526  Selected Medieval Theologian: Bonaventure
PhD supervision
Jessica Collett
Morkos Hosny Fakhry Gamil
Patrick Brown
Sean Barrett
Selected publications