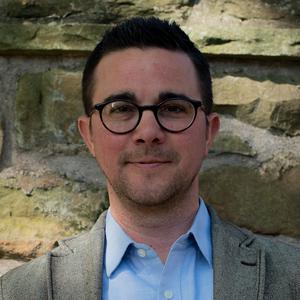 Dr T.J. Lang
Senior Lecturer in New Testament
Biography
T.J. Lang joined the University of St Andrews in 2016 and is now Senior Lecturer in New Testament Studies. He is also currently co-director of the Institute for Bible, Theology, & Hermeneutics. Prior to St Andrews T.J. was Lecturer at Durham University (2014-2016). His PhD is in New Testament Studies from Duke University (2014), with minor areas in Early Christianity and Greco-Roman Systems of Thought. T.J. was formerly a Fulbright scholar at the Universität Heidelberg (2009-2010), a Dolores Zohrab Liebmann Fellow (2011-14), and a DAAD Research Grant awardee (2009-2010). His first monograph, Mystery and the Making of a Christian Historical Consciousness: From Paul to the Second Century (de Gruyter, 2015), was awarded the 2017 Manfred Lautenschläger Award for Theological Promise. T.J. currently serves as the Divinity School's Director of Postgraduate Studies (Research). His publications appear in peer-reviewed journals such as the Journal of Biblical Literature, New Testament Studies, Zeitschrift für die Neutestamentliche Wissenschaft und die Kunde der Älteren Kirche, Zeitschrift für Antikes Christentum, Journal of Theological Studies, Journal for the Study of the New Testament, Catholic Biblical Quarterly, Biblical Interpretation, and the Journal of Theological Interpretation.

Teaching
DI1006 Jesus and the Gospels
DI2003 Paul and the Epistles
DI4604/5 Johannine Literature and Theology (English and Greek)
DI5501 The Origins of Christian Theology
T.J. also co-lectures with Dr Madhavi Nevader on From Adam to Apocalypse (DI1202) and Kingship and Messianism (DI4732).
Research areas
Dr Lang's scholarship wanders across texts and centuries, but the core of his research is twofold: first, the New Testament; second, the history of its formation and interpretation. Strictly speaking, the anthology named ?New Testament? is not a first-century artefact. The canon coalesces alongside the centuries-long reception and interpretation of its contents. Much of Dr Lang's work, therefore, also moves alongside the canonical formation of the New Testament, alongside its earliest interpretation, but utlimately back to the text itself. The accent is not on reception for its own sake but on how the New Testament's reception returns to the text and contributes to its ongoing interpretation. ?Reception history? (or Wirkungsgeschichte) is not unfitting as a description of his primary research interest, but he aspires to a version of this that is more powerful and historically expansive than what is often so labelled.
PhD supervision
Benjamin Castaneda
Jackson Atkins
Hannah Craven
Paulus De Jong
Tyler Hoagland
Kimberley Kroll
Selected publications