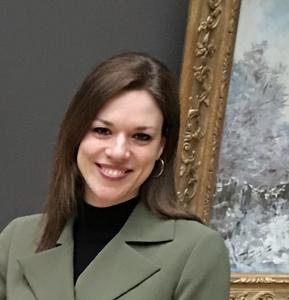 Dr Rebekah Lamb
Lecturer in Theology, Imagination and the Arts
Research areas
Dr. Rebekah Lamb specialises in religion, literature and visual culture from the long nineteenth century to the present, with an emphasis on John Henry Newman; the Pre-Raphaelites (as well as their affiliate circles and inheritors); and late modern novels and poetry. She joined the School of Divinity in 2018. Prior to St. Andrews she was an inaugural Étienne Gilson Post-Doctoral Fellow at the University of Toronto (St Michael's College).
Dr Lamb received her PhD in Victorian and Twentieth-Century British and Irish Literature as well as her Masters in English Literature from Western University (London, ON, Canada). During her doctoral studies she was a Kuyper Emerging Scholar and an Ontario Graduate Scholar. She holds an Honours BA in Liberal Arts Studies, with special emphasis on English Literature and the Humanities, from the Thomas More College of Liberal Arts (New Hampshire, USA and Rome, Italy).
Teaching 
DI2009: Saints & Cyborgs: The Imagination in Theology and Science. Co-taught with Dr. Joanna Leidenhag and Dr. Gavin Hopps
DI5453: Practical Criticism
DI5451: Christian Doctrine and the Arts
DI5925: Theology and the Arts (Distance Learning)
Junior Honours Research Seminar
Guided Study: Dietrich von Hildebrand's Liturgy and Personality
Research Areas:
Dr. Lamb focuses on intersections between theology, visual arts and literature, from the long nineteenth century to the present. However, her research and teaching has also led her into Biblical Studies, Dante, and Christian Personalism. She is especially interested in the religious and aesthetic implications of inter-art projects, such as Pre-Raphaelite poem and painting pairings, and links between devotional as well as public writing and Christian theology in the Victorian period and late modernity. Her research increasingly focuses on John Henry Newman, Christina Rossetti, Gerard Manley Hopkins SJ, TS Eliot, Catherine Doherty, GK and Frances Chesterton, and Michael D. O'Brien.
She is currently writing a book on the aesthetic and religious implications of boredom in the nineteenth and twentieth centuries (McGill-Queen's University Press), and recently co-edited a special issue on "Reading the Times" in the life and thought of John Henry Newman with Michael D. Hurley (Cambridge) for Religion and Literature. She is also contributing to two Cambridge Companion volumes on religion and literature in the Victorian context--the first focuses on Gerard Manley Hopkins's Roman Catholicism and the second appraises the conditions of Roman Catholicism in nineteenth-century Britain. 
Dr Lamb has published articles, encyclopedia entries, book chapters, and review essays in The Journal of Pre-Raphaelite Studies, The Palgrave Encyclopedia of Victorian Women's Writing, New Blackfriars, Religions, Theology in Scotland, and elsewhere.
A developing branch of her research involves a series of essays on the relationship between history, theology and the liberal arts--in the contexts of the university and digital culture--as informed by the thought of John Henry Newman, Stratford Caldecott and Joseph Ratzinger, among others. 
Dr. Lamb frequently writes for public-facing journals and magazines, including Church Life Journal, Magnificat (UK & Ireland), Convivium: Faith in Our Common Life, The Catholic Herald, and The Scottish Catholic Observer. She has featured in public programmes for BBC One & BBC Scotland, the Christian Heritage Centre (Stonyhurst), the Thomistic Institute (Oxford and Angelicum chapters), and the McGrath Institute at the University of Notre Dame (Indiana, USA).
Dr Lamb is often invited to speak on topics relating to her research, the public humanities, and broader, theological and cultural themes—especially as informed by Roman Catholic approaches to aesthetics, culture, and the human person. She delivered the 2020 Cardinal Winning Lecture (Glasgow University) on St. Thérèse of Lisieux's status as a Doctor of the Church for our times (published, here) and will deliver a keynote address on the poetics of hope for The Hopkins Society in May 2023. In 2018 Dr Lamb co-taught the University of Toronto's first Gilson Seminar in Faith and Ideas in Rome, Italy with Randy Boyagoda. She is the co-founder of the annual St. Margaret of Scotland Lecture Series at the University of St. Andrews, which launched in 2020. 
PhD supervision
Emily Lehman
Karen McClain Kiefer
Simeon Theojaya
Melody Bellefeuille-Frost
Selected publications