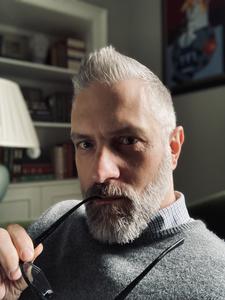 Prof Oliver Crisp
Professor of Analytic Theology
Phone

Email
Biography
Oliver Crisp is the Professor of Analytic Theology and Director of the Logos Institute for Analytic and Exegetical Theology. He joined the Divinity School in the autumn of 2019, having previously taught at Fuller Theological Seminary in California (2011-2019), the University of Bristol (2006-2011), and St Andrews (2002-2004). He has also held postdoctoral research fellowships at the Center for Philosophy of Religion, University of Notre Dame (2004-5;2019), and the Center of Theological Inquiry, Princeton (2008-9).
He is best known for his work in analytic theology, and is a Senior Editor of the Journal of Analytic Theology, and a series co-editor (with Professor Michael Rea) of the Oxford Studies in Analytic Theology. He also organises the annual Los Angeles Theology Conference series with Professor Fred Sanders, and is co-chair of the Christian Systematic Theology Unit for the American Academy of Religion.
Oliver has been Principal Investigator for the $2m grant "Analytic Theology for Theological Formation" at Fuller Theological Seminary (2015-2018). He is currently co-investigator for the $1.5m TheoPsych grant (2018-2021), working alongside Professor Justin Barrett and Dr Kutter Callaway at Fuller Seminary. Both grants were funded through the generosity of the John Templeton Foundation. He has also been a grantee of the BioLogos Foundation ($102k) for work on the doctrine of original sin (2013-14).
Oliver received degrees in Divinity from the University of Aberdeen (BD, MTh), and Philosophy of Religion from the University of London (PhD). He also holds a higher doctorate from Aberdeen for his work in theology and philosophy (DLitt).
Research areas
Systematic theology, analytic theology, historical theology, particularly in the Reformed tradition.
PhD supervision
Dennis Bray
Matthew Joss
Jon Kelly
Daniel Spencer
Jason Stigall
Selected publications