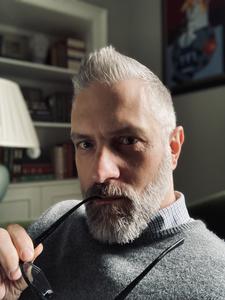 Prof Oliver Crisp
Head of School
Biography
Oliver Crisp currently serves as the Principal of St Mary's College and Head of the School of Divinity. He is also the Professor of Analytic Theology and Director of the Logos Institute for Analytic and Exegetical Theology. He joined the Divinity School in the autumn of 2019, having previously taught at Fuller Theological Seminary in California (2011-2019), the University of Bristol (2006-2011), and St Andrews (2002-2004). He has also held postdoctoral research fellowships at the Center for Philosophy of Religion, University of Notre Dame (2004-5;2019), and the Center of Theological Inquiry, Princeton (2008-9).
He is best known for his work in analytic theology, and is a Senior Editor of the Journal of Analytic Theology, and a series co-editor (with Professor Michael Rea) of the Oxford Studies in Analytic Theology. He also co-founded the annual Los Angeles Theology Conference series with Professor Fred Sanders. 
Oliver has been involved in a number of major grant-funded research projects. He was Principal Investigator for the $2m grant "Analytic Theology for Theological Formation" at Fuller Theological Seminary (2015-2018), and co-investigator for the $1.5m "On Human Natures: Psychological Science in the Service of Theology" grant (2018-2021), working alongside Professor Justin Barrett and Rebecca Sok of Blueprint 1543, and Dr Kutter Callaway at Fuller Seminary. Both grants were funded through the generosity of the John Templeton Foundation. Oliver has also been a grantee of the BioLogos Foundation ($102k) for work on the doctrine of original sin (2013-14). Most recently he was a participant in the Templeton-funded "Philosophy, Theology, and Psychology of Christian Trust in God" grant (2019-2021), working with PIs Daniel McKaughan at Boston College, Teresa Morgan at Oxford, and Michael Pace at Chapman University. 
Oliver received degrees in Divinity and Law from the University of Aberdeen (BD, MTh, LLM), and Philosophy of Religion from the University of London (PhD). He also holds a higher doctorate from Aberdeen for his work in theology and philosophy (DLitt).
Research areas
Systematic theology, analytic theology, historical theology, particularly in the Reformed tradition.
PhD supervision
Jason Stigall
Jon Kelly
Timothy Haratine
Harvey Cawdron
Nok Ki Yeung
Benjamin Keogh
Mark Hertenstein
Christian Kalmbach
Tiago Martins
Cody Warta
Selected publications